Inside the glamorous world of fashion photography
It's photography week for the zero waste hoodie top.
I find photo shoots lots of fun. Also incredibly tiring as well, probably because I talk non-stop the whole time!
There are no modelling agencies out here in rural Australia. Therefore as well as using myself as a model I ask "regular everyday people" to model and try to show the clothes on a variety of ages, body shapes and ethnicities. The latter is difficult because there are very few people of colour in this area (and not everyone wants to be a model).
I take the pictures, and the model and I organise the styling together.
To show correctly how the garment fits, I often make the item especially for the model, in a colour that suits them.
In the "show and tell" spirit of this series, here are some of the week's photos:
I asked a friend's teenage son if he would like to be photographed. I created a hoodie top mood board on Pinterest and Sebastian chose the fabric. He found modelling much harder than he thought but he was a tremendously good sport and a lot of fun.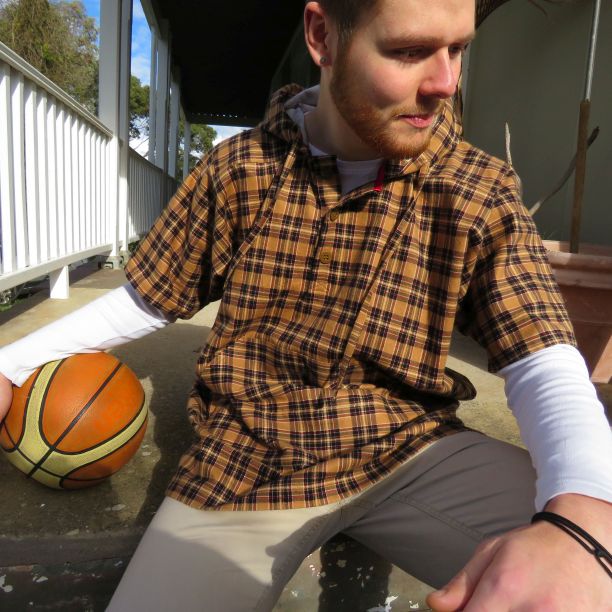 I photographed my husband in the same brown plaid top. He's clearly been working on his "catalogue model" look since I used him to model scrubs earlier this year. He says he's too old to wear hoodies but I thought it looked fine on him.
Too old? No way! Jill rocks the red-white-blue hoodie top.
Still to photograph is the blue poplin (the model came down sick).
And the top made in Japanese chambray. I love this one best of all! The fabric was a dream to cut and sew. Planning to style it with a white t-shirt and vintage baseball cap.
If you'd like to read the previous posts about this hoodie top:
Part 1 Where I tested out the initial idea from a tiny sketch.
Part 2 Where a sample is sewn and some thought given to multiple sizes.
Part 3 shows some samples in different sizes and fabrics, after a frenzied week of sewing.
Part 4 where I did the drawings for the sewing and cutting directions.
I still have to think of a name for this pattern. The criteria are:
it has to be a non-gendered name since this is a non-gendered top.
it can't be a rude word in another language.
it can't be already in use as a popular pattern name (ruling out wiksten, ogden, zadie, hinterland, kielo etc).
it has to have an available hashtag on instagram so it can be found.
alliteration is okay (eg haywoodhoodie – hey, that's not bad!).
it can't share a name with any unpleasant person I've met in my life.
place names are acceptable.
We had a naughty giggle through lists of unusual baby names and got some ideas, but maybe it would be easiest to call it the zero waste hoodie.
Cheers!
PS Donna-in-the-comments – that vintage argyle knit still hasn't been cut up, but don't worry I haven't forgotten!