Hello and welcome!
I'm Liz Haywood. In my blog I hope to share, inform and entertain on all things about sewing and fashion. I post weekly on Mondays, but occasionally Sundays and sometimes Tuesdays.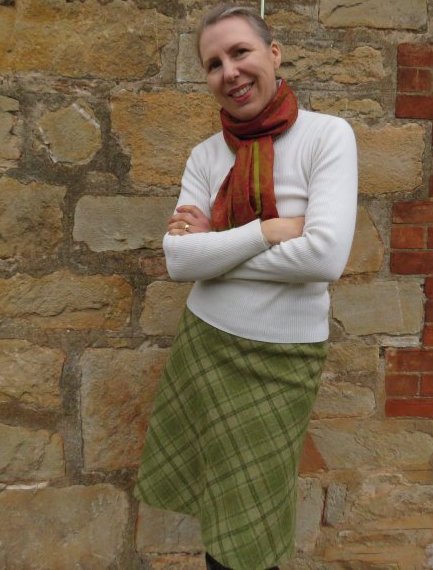 About me: I trained as a clothing patternmaker in Adelaide, Australia in 1990/91, but started my career as a junior cutter in a Cut-Make-Trim factory. I worked as a patternmaker and/or cutter in the fashion industry in Adelaide, doing active/swim wear, school and corporate uniforms, bridal, fashion ranges and various freelance jobs. I worked as a temp patternmaker in London during the Cool Britannia era of the late 90s. I've also worked as a sewing teacher and knitting pattern writer.
In 2010 we moved to the country, South Australia's Clare Valley, with our very young family, and so I no longer work in industry.
In 2016, when the babies had started school, I started this blog and almost at the same time read about zero waste patterncutting. I gave zero waste a try as I was curious to see if it was difficult, and found I enjoyed it – far more than regular patternmaking. At the beginning of 2020 I decided I would only make zero waste patterns from now on.
I'm the author of The Dressmaker's Companion – A practical guide to sewing clothes (2017) and Zero Waste Sewing – 16 projects to make, wear and enjoy (2020). I'm currently writing a new book, A Year of Zero Waste Sewing – A year of exploration, making and musings on zero waste patterncutting and clothes, which I'm experimentally publishing in instalments as an e-zine. It should be finished by late 2023.
I also publish pdf zero waste sewing patterns.
As well as this blog, I write a monthly newsletter on anything I've found interesting in the sewing & fashion world that I think you would like too. Subscribe in the sidebar. All the back issues can be read here.

If you're looking for zero waste resources…
Take a look at Zero Waste Legacy Sewing. It's an on-demand class looking at 3 historic zero waste patterns.
My zero waste sewing patterns are listed in this directory and in more detail on my blog here.
Making the Grade – grading strategies for zero waste is available here as a zoom recording and is currently being re-filmed as a course.
A lecture I presented on zero waste sewing for Create + Sustain can be found here.
Thanks for dropping by 🙂
Feel free to contact me by email on liz@lizhaywood (dot) com (dot) au. I always reply – it's just me here!
Back to blog