The zero waste coat that makes me look like a Jedi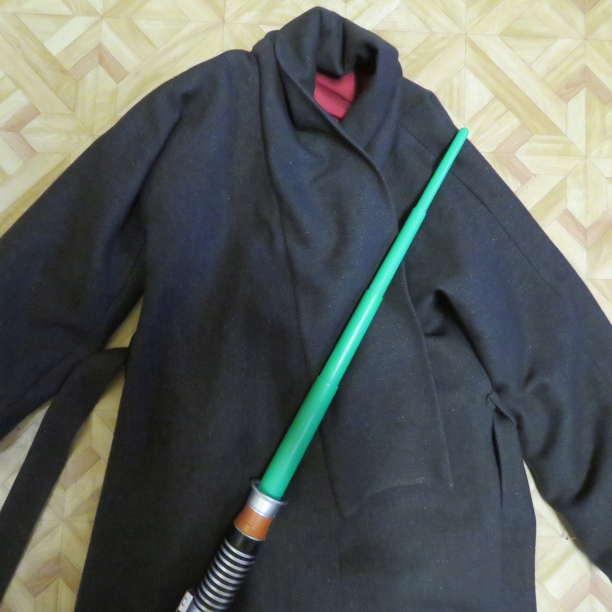 Yep, it's funny how an idle comment can change your perception of a garment….
Over the past few weeks I've been making some of the clothes from Zero Waste Sewing in different fabrics, and this week I made a coat.
Zero Waste Sewing has couple of coat patterns. One of them has a matching dress and the coat is lined with the dress fabric (Chanel liked to do this – here's an example). I'm making the coat on its own.
Here's the ensemble in the book: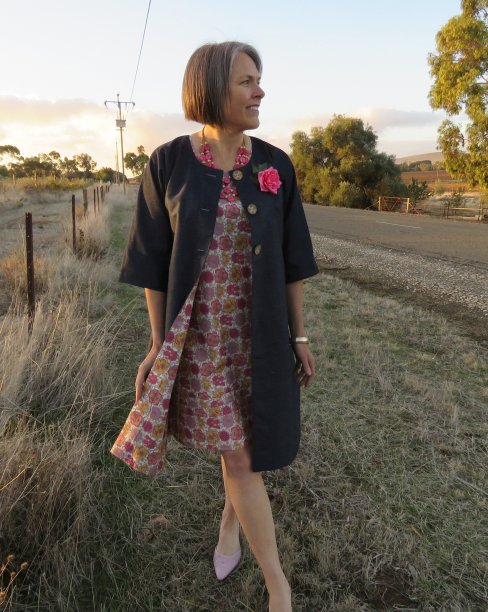 Here's the sketch: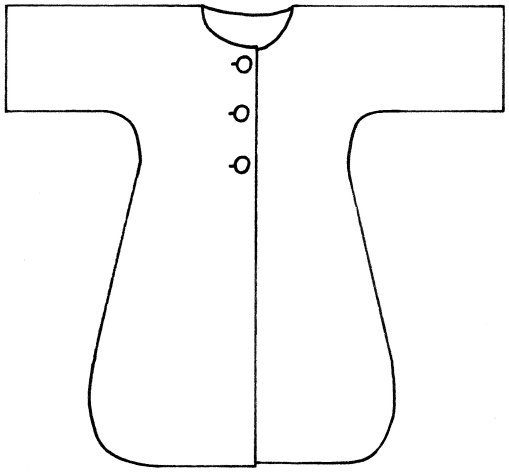 It's a very simple shape. The coat and dress in the book are cut from the same pattern and constructed differently.
Here's me wearing it:
I think the coat looks good on its own too. I've always liked long-line coats and cardigans worn over trousers; it's a very relaxed look.
I cut a pattern two sizes bigger which fitted neatly on 150cm wide fabric with a handy 5cm to spare at the side (which got used for a front facing). The fabric is wool coating, heavier than the lightweight denim used in the book.
The pattern pieces are tessellated – they fit into each other perfectly.
I found some odd-shaped scraps of lining to give it a half lining. The lining could almost be used as a jacket on its own.
I tried a few different looks for this coat: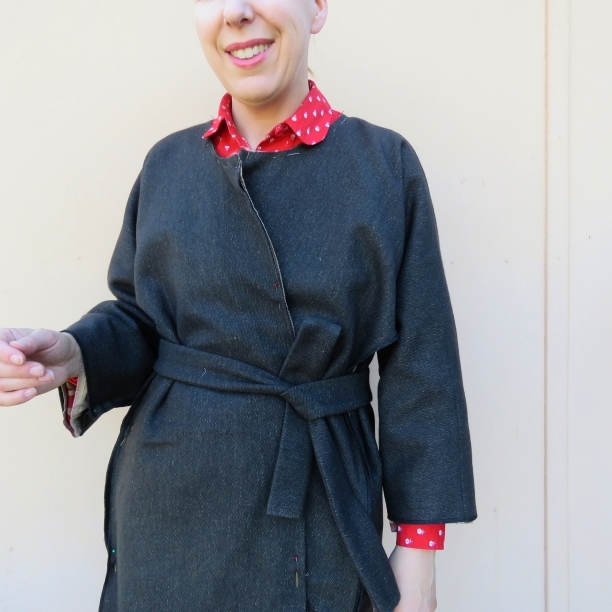 What if I cut a collar? I cut a selvedge-to-selvedge strip of wool, 33cm (13″) wide. I pressed it in half longways, wrong sides together.
I cut a deep V in the coat's neckline and sewed the strip to it.
This collar idea could be used on any coat.
I took the partly-finished coat along to a sewing class for show & tell. They all thought I looked like a Jedi, but (being Star Wars fans) quickly added that that wasn't a bad thing, y'know.
Jedi or not, I do like the collar and I love how I feel when I wear this coat.
I added a belt and extended the sleeves to full length. Not so Jedi now.
There are a couple of outstanding things to finish: hem, pockets of some sort, stitch down cuff bands (realised interfacing is needed in these) and see if I can use the V pieces I cut off the fronts, in the interests of zero waste.
I wonder if some deep red handstitching would look good?
With cold weather still months away, finishing it off will be done at a leisurely pace.
Cheers!
UPDATE: I revisted this coat later and tweaked it to perfection 🙂