Re-creating Thayaht's Tuta Part 3: work in progress
Hello! Read the previous posts on this project: Part 1 Introduction and Part 2 where I got started on it.
I've never worn a jumpsuit in my life and I think I'm a convert.
This week I fitted and finalized the pattern, cut out a navy blue Wear-out-of-the-house Tuta….and haven't finished it. (It's school holidays and I've been doing other stuff. Also need to get buttons.)
I did, however, finish off the camo flannelette toile to wear as pajamas. I'm actually wearing it as I type this. Wish now that I'd made it in non-pajama fabric, I like it so much.
In keeping with the camo theme, I finished it off with some buttons from my husband's grandma's button jar, which I suppose were off his grandpa's WW2 uniform.
Obviously I won't be wearing a leather belt to bed, but the Tuta looks so much better with a belt. Also, wearing a belt affects the crotch height – it makes it sit slightly higher because the top part blouses over the belt. This therefore makes the leg length slightly shorter.
In summary, do a fitting with the belt.
Here's my pattern: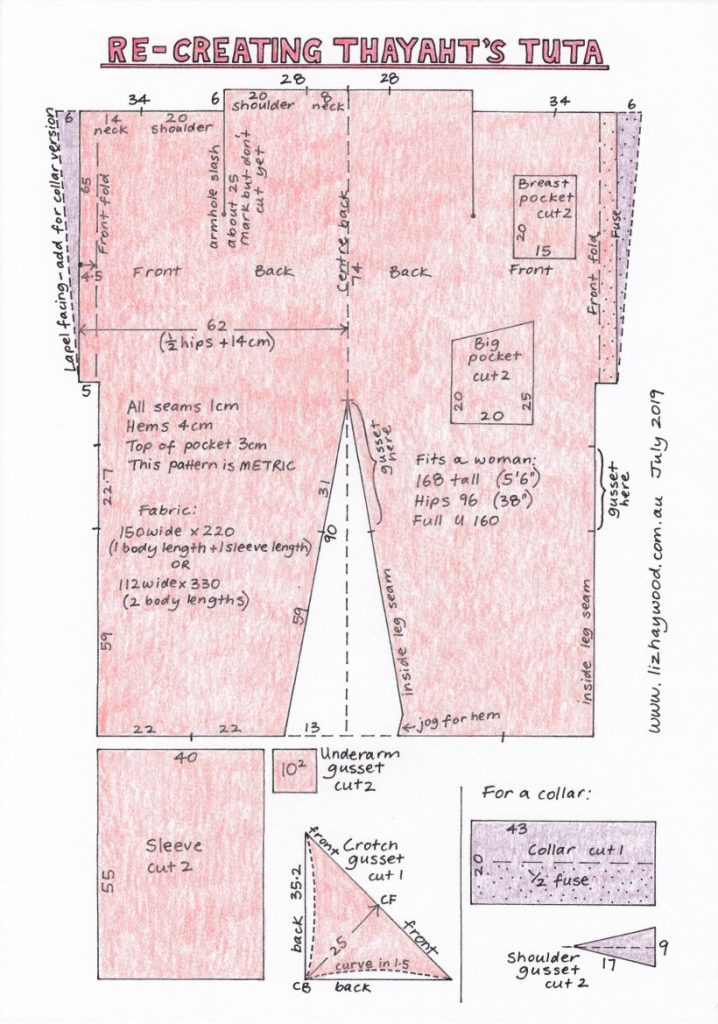 Are you thinking of making one? This pattern is one size fits all, as long as you're the same size as me! Haha! Relax. I'll grade it during the week.
Regarding sewing instructions, The original Tuta had a very helpful sketch explaining the gussets and What goes Where, but not the detailed step-by-steps that we are used to today. It was more of a short visual guide with handy hints.
Here's a sewing order:
Iron interfacing onto half of the collar and front facing.
Sew the shoulder seams/shoulder gussets.
Construct the sleeves with their underarm gussets.
Sew the sleeves into the armhole slits.
Sew the crotch gusset, leg seams and centre front seam.
Press the front facings in place, lap them over each other and topstitch the bottom.
Make the collar and attach it to the neck.
Hem the sleeves and legs.
Try it on and position the patch pockets.
Next week I'm sure to have finished the navy blue Wear-out-of-the-house Tuta. Might write a gusset tutorial too.
Cheers!
Read the last part in this series here.