New-ish pattern: zero waste tie front top
The tie front top is one of the most popular patterns in Zero Waste Sewing. It was the first pattern I made for the book; I made all the patterns just over 3 years ago now.
The pattern in the book only comes in 5 sizes, to fit a 34″/86cm bust to a 42″/106cm. However, I'm now more confident with grading zero waste patterns to bigger sizes, so I've revisited this pattern and re-issued it as a digital pattern in 20 sizes, to fit from a 32″/81cm bust to a 70″/178cm.
The pattern is in my shop now – please enjoy 25% off for the next month.
The body, sleeves and tie all hang on the bias. The top pulls on over the head with no fastenings required, and the only notion needed is sewing thread.
The pattern is drawn straight onto the fabric from measurements in the instructions, so there are no pattern pieces to print out (apart from a back neck template – see the end of this post).
Here's the cutting layout. The top is cut from a perfect square of fabric – the tie is cut first, then the other pieces are cut from the two big triangles either side.
It only took 3 years for me to twig that I could use a bigger square for bigger sizes! Duh! I wasn't sure if the "formula" would grade up successfully but it did.
Here's a gallery of tops, all made in different fabrics….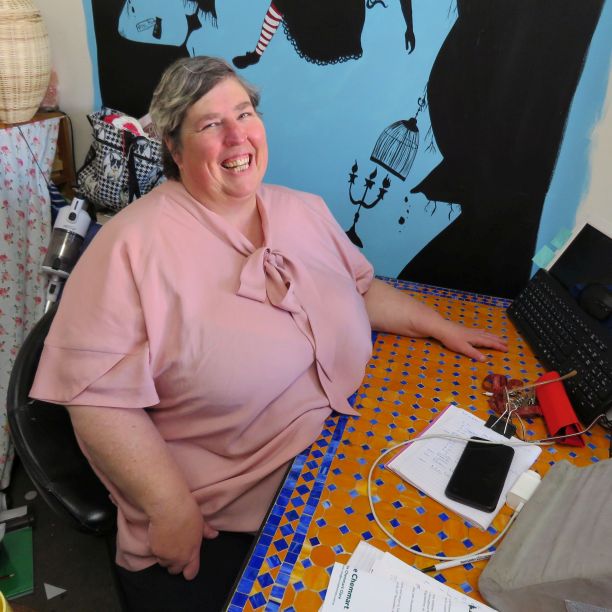 Here's a bit more about how I originally designed this top.
For this new pdf version, I made two very small changes to the pattern. In case you've bought the book, they are:
I made the front neckline 2cm higher (page 17, Step 10).
I made a template for the back neck piece to make it easier to shape it (page 19, Step 5). Below is a pdf of the template – click on the double chevrons at the top right to download.
Cheers!