Hello! New taupe corduroy trousers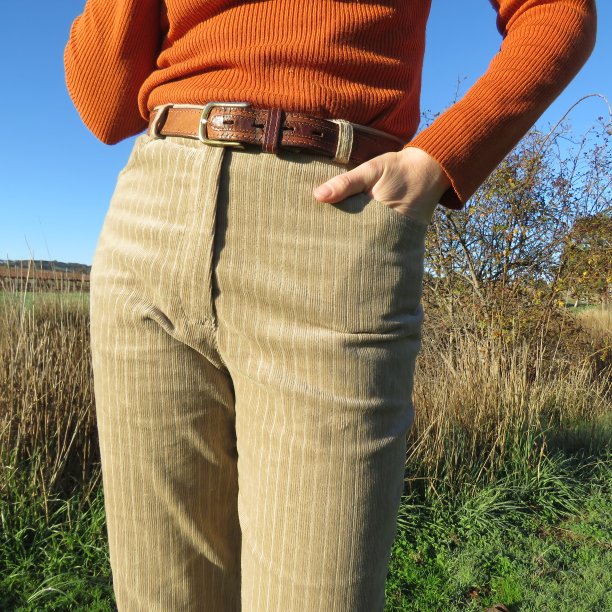 The departure of my old much-worn taupe corduroy trousers has left a void (see obituary here). Too many smart-casual country looks are going unworn since they retired…it seems that taupe corduroy trousers are needed in my wardrobe.
Meanwhile, dormant in my stash, waiting for its moment to shine, was this stretch taupe babycord with a pinstripe.
At the end of Me-Made-May I cut it up to make a new pair of trousers. I used the same jeans pattern as the zero waste jeans but with a bootleg. I did consider making the taupe trousers zero waste too; I learnt a lot with the jeans and could certainly improve, but the corduroy (being napped) is one-way and I had stripes to match too, so I let it go.
They were pretty straightforward to make. I made a waistband with an extension – it's more secure than a single button and puts less pressure on the buttonhole because the stress is spread over two buttonholes. The other advantage is that the waistband is symmetrical – no need to remember which side has the fly shield extension because both ends do.
I hemmed the trousers on the long side because I'll bet the fabric will shrink even though it's been prewashed.
When I tried the trousers on (late last night) to get the length right, I discovered the waistband was uncomfortably tight. Should I blame the fabric…or the pattern…or the patternmaker (me)…or the lack of exercise lately? Let it be known I'm sucking my tummy in for these photos and thinking about the unpicking I'll be doing.
Tight-but-fixable waistband aside, I'm really happy with these. It's my third pair using this pattern and I love everything about them: the pockets, the leg cut, the fit and how I feel when I wear them.
Cheers!