99 years of the jumpsuit: re-creating the Tuta
Photo source: Wiki commons
Do you own a jumpsuit? Maybe you have many. Have you ever sewn a jumpsuit?
It's been 99 years since the launch of what we now call the jumpsuit. Its inventor was Italian futurist artist Ernesto Michahelles (who adopted the palindrome pseudonym Thayaht) in collaboration with his younger brother Ruggero Alfredo Michahelles (known as RAM).
The new garment was named the Tuta. In Italian the word tutta means all-in-one/whole/a unified thing. Some suggest that the missing "t" in Tuta is the shape of the Tuta itself.
The Tuta was designed as a utopian garment for all people, for all situations, affordable, easy to sew and cut with minimal fabric wastage. Its simplicity and versatility were in contrast to the haute couture of the day. Thayaht published the instructions for cutting and sewing in the Florentine newspaper La Nazione and he proclaimed it "the most innovative, futuristic garment ever produced in the history of Italian fashion."
Here's a Tuta from 1920 in the Museum of Tissu in Prato, near Florence:
A two minute English language video of the museum's 2007 exhibition is here. Shown are further developments of the Tuta – a women's version and a two-piece Tuta he called the Bituta.
[Btw, if you've read Betty Kirke's book Vionnet, you may recall that Vionnet collaborated with Thayaht. Here's a two minute video of some of the sketches he did for her.]
Are you thinking what I was: was there any precedent for the jumpsuit?
Bib overalls had been worn since at least as early as 1830, but they're more like trousers crossed with an apron and I would say they're closer to trousers than jumpsuits.
Combination underwear, also known as union suits, also dates from the 1800's. Cowboys wear it in old wild west movies, typically in white, grey or red/pink. However, these tended to be close-fitting and (I think) made out of knit fabric.
What about aviation flight suits? The revolutionary Sidcot flight suit was developed in 1917 to keep pilots warm during their missions. It had three layers: one made of fur, one of airproof silk and the outer shell was a thin, light Burberry material.
So there wasn't really anything like it, not with the same ideals and intent.
Some years later, in 1923, Russian constructivist artists Alexander Rodchenko and Varvara Stepanova created The Vast, which like the Tuta reflected utilitarian functionality and removed gender and class distinctions.
In the 1930's fellow Italian Elsa Schiaparelli designed women's jumpsuits but trousers were still considered daring for women to wear.
WW2 saw jumpsuits used for war work, with famous examples being Rosie the Riveter and Winston Churchill's siren suit. Boiler suits, a looser-fitting version, were worn over regular clothes as protection.
The 60's and 70's saw renewed interest in the jumpsuit as a fashion item. Abba, Cher, The Bee Gees and Elvis all wore them. Versions were also worn by racing car drivers, astronauts and superheros.
Jumpsuits experienced a lull in favour in the late 80's and 90's. I remember learning to make patterns for jumpsuits as a fashion student, thinking: when am I ever going to have to do this?
And now it seems one's wardrobe is incomplete without at least one jumpsuit.
Thayaht's cutting plan for a jumpsuit is very useful (the measurements are on the newspaper clipping) and includes some innovative details:
The crotch gusset is a triangular shape, with the corners pointing down each inside leg seam and the centre back.
The underarms have square gussets.
There are no side seams; the sleeves (which are rectangles) and their gussets are inserted into slits cut in the sides.
Last year I attempted a zero waste jumpsuit based on the Tuta. Mine was a little different (it had side seams, a diamond crotch gusset and extended sleeves) but it was a good learning experience transferable to the Tuta. My notes:
There's a fitting issue with the back length. The back is the same length as the front, and when you sit down the back isn't long enough and the front neck chokes you. It needs a back yoke of some sort, maybe 2″, to add back length.
It needs to be worn with a belt to look good. I notice Thayaht wore one with his. My beltless jumpsuit toile (shown below), sewn in brown check, made my children fall on the floor laughing – they told me it looked like a bear costume without the head.
10cm x 10cm is a good size for an underarm gusset, just like this jacket (scroll down). These are separate but the Tuta's gussets are cut with the sleeves.
According to Timo Rissanen, who is also making a Tuta, the triangular crotch gusset fits better if the two back sides are curved in.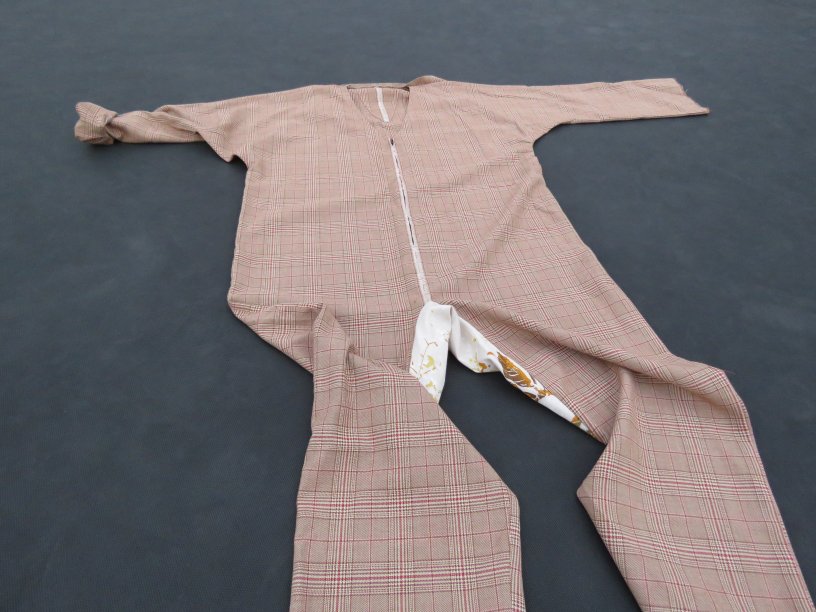 This week I plan to run up a Tuta and see how it goes.
I should add that I've never worn a jumpsuit in my life (except to strip paint, but that was worn over other clothes). I've done a few patterns and sewn a few, but I hope this will be a new addition to my wardrobe.
Cheers!
Read Part 2 here.
Read Part 3 here.
Read Part 4 here.