New pattern: Zero Waste Cloth Doll
Hi Everyone, I have a new zero waste pattern. It's a cloth doll with a wardrobe of zero/low waste clothes.
The pattern is in my shop now; please enjoy 25% off for the next month.
The pattern pieces for the doll are nested in a zero waste layout which includes a coat and overalls.
This cloth doll pattern is a blank canvas for your creativity. The pattern has no specific gender, so you can make a girl doll, boy doll, or a doll that looks like the child who'll be playing with it.
Suitable fabrics include linen, cotton, calico, poplin, homespun or sheeting. For a very soft doll, velveteen or baby cord can be used – the difference in nap direction is not noticeable in small items like this.
Accompanying this pattern is a separate file to make a wardrobe of zero/low waste dolls clothes. You may recognize some of these styles from Zero Waste Sewing and my other zero waste patterns.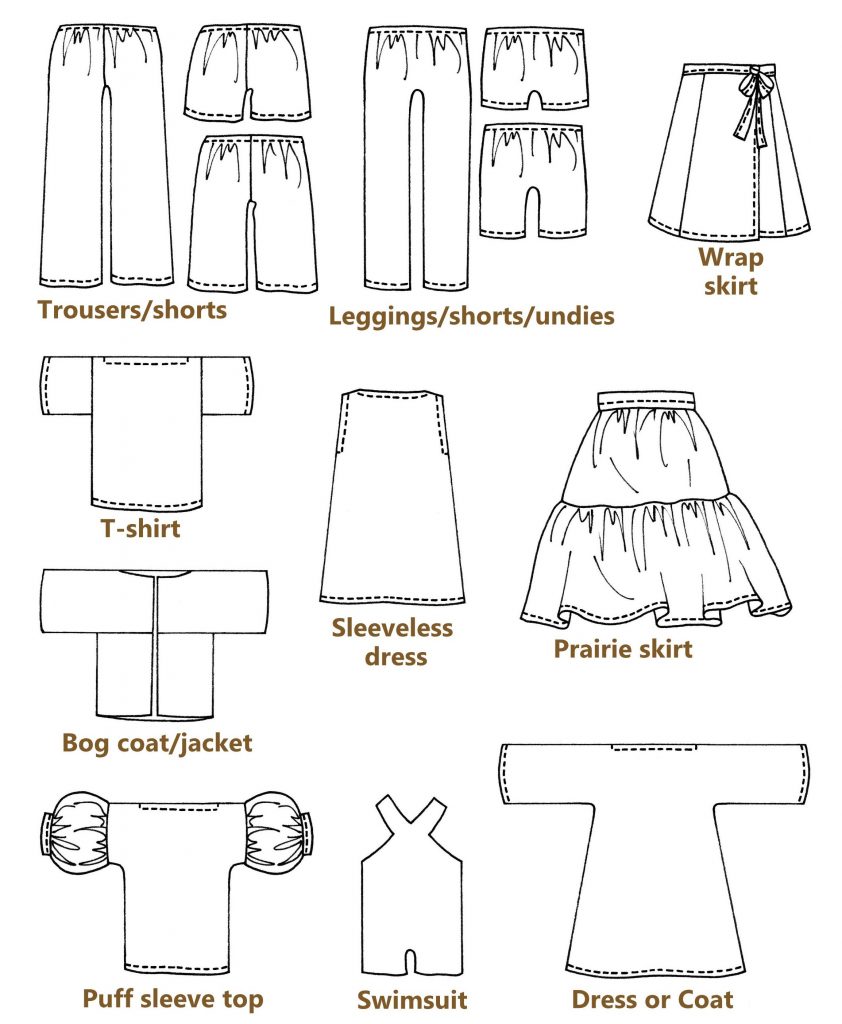 Here's a gallery of dolls and clothes….
I came to make this pattern after thinking about other applications for zero waste cutting – the concept could be used for quilts, toys, home decor, or anything where pieces are arranged on a flat surface. I thought I could make a toy (read my brief thoughts about zero waste toys here) and drew an idea which turned out to be totally unworkable! But eventually I arrived at the pattern I've now finished. Below is the original cutting plan from my sketchbook – you can see I kept the idea of nesting clothes in with the doll, but the arms and legs became separate and the clothes changed.
This is my last post for the year and this blog is now on annual leave until late January.
Thanks so much for reading, commenting, following on social media and ordering patterns and books. I wish you a happy and relaxing Christmas/holidays!
Cheers!