How to make zero-waste leggings
Last week's zero waste leggings are finished and I can happily report success!  In fact, I am very pleased with them.
If you feel in the mood to sew something different, you might like to make yourself a pair.  Here's the draft: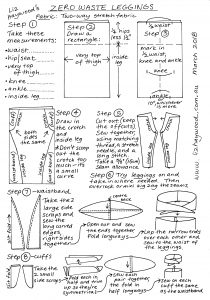 Fabric: The leggings require a stretch fabric that stretches in both directions.  A one-way stretch is no good because the waistband and cuffs are cut longways and you won't be able to get the leggings on.  The degree of stretch can be variable because you'll be doing a fitting and will be able to adjust the fit according to the stretch (and how tightly you like to wear them).
I used a remnant of cotton lycra with 30% stretch (ie 10″ stretches to 13″), but many lycras have about 50% stretch (10″ stretches to 15″).  These are fine to use.  The most important thing is that it stretches in both directions.
Step 6. Try on the leggings and take them in where needed.  Use some safety pins instead of regular sewing pins.
You'll need to take them in more if the fabric is very stretchy or if you like a tight fit.  Note that the back waist will sit quite low but the waistband will fill that in.
When you're happy with the fit, you don't need to unpick the long stitches; just sew directly over the top.  You can sew the permanent seams with a 4 thread overlocker, or if you don't have an overlocker use a mini zig zag on your regular machine.
If we're being picky, these aren't really zero waste since I did trim off some bits in Steps 7 and 8, and there's a spare strip on the side of the fabric (which could be made into a headband?).  However, it's pretty close and was an enjoyable challenge.
Cheers!
PS, did you hear I'm on Instagram now?