I've been sewing (for me) one of the projects from my forthcoming book Zero Waste Sewing – the tie front top. Here's what it looks like in the book:
And here's mine: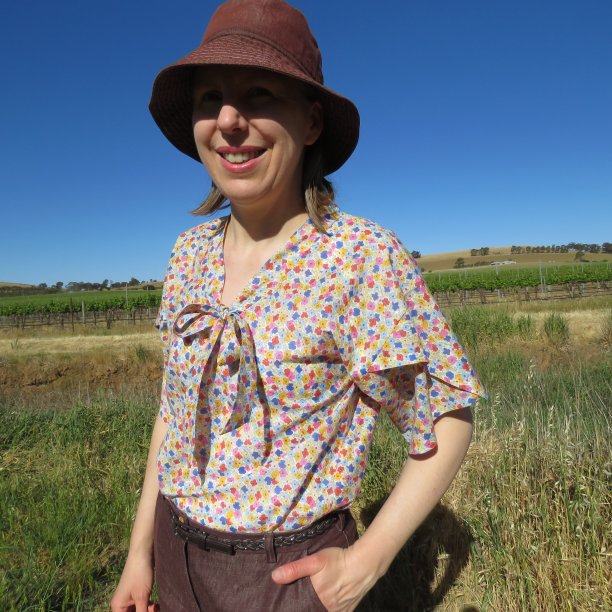 This is the fourth version of this top I've made; some of my sewing students have made it too.
For this one, I used Japanese lawn from Spotlight. I originally bought it to make THE sample for the book, and I was going to style it with green tweed zero waste trousers. However, the trousers got pulled from the book (ran out of space) and I thought it was important to show the top in a striped fabric since it's cut on the bias. The white dobby stripe we used instead looked lovely on the model.
This top is very economical on fabric: it takes a 115cm x 115cm (45″ x 45″) square of fabric for all sizes (8-16, but a 16 top will also fit a 18 and 20 body, just with less ease). I've noticed that zero waste patterns tend to use the same amount or less fabric as similar non-zero waste garments.
My sewing students easily made this top in 2 x 3-hour classes (and they were working from an early version of the pattern, although they had me there. Their feedback certainly tightened up the instructions).
The top pulls on over the head, so there are no fastenings and the only notions required are thread.
The pattern is drawn straight onto the fabric from measurements given in the instructions. This is a different way of working for many of us, and it can feel confronting to just draw and cut, but I was surprised to notice that working this way gave me a confidence boost that transferred to the rest of my sewing.
I've tried various samples of this on quite a few different bodies now and it always looks good.
I'd planned to wear it to a book talk on the weekend (with brown linen Burda trousers) but the weather turned chilly and I wore my Tuta instead, with a full suit of thermal undies underneath. So while I didn't end up wearing this top, I had an extra sample to show and an enjoyable time making it.
Cheers!