The zero waste Boho Dress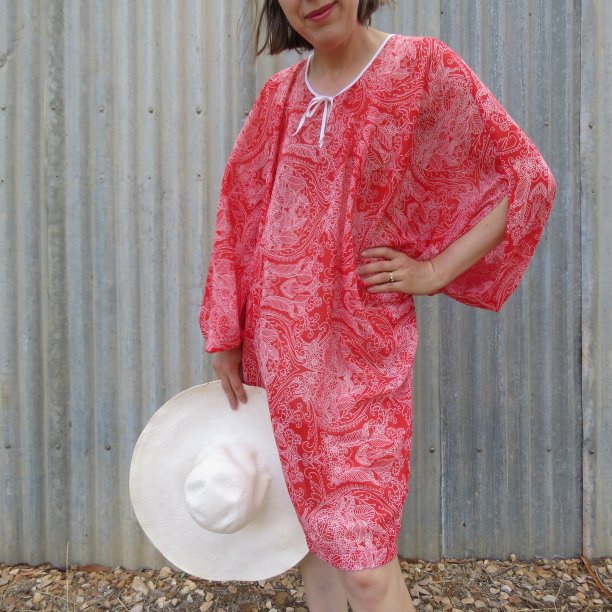 The boho dress from Zero Waste Sewing is a summer holiday sort of dress, for wearing at the beach or pool, sipping white wine at a BBQ, holiday shopping or just wearing on a hot day.
It's fairly quick to sew and pulls on over the head. Easy to wear – just add sandals.
Here's what the dress looks like in the book:
The boho dress is also featured on the front cover of Zero Waste Sewing, pretending to be sewn by me.
This is a dress I really love but unfortunately is totally not me! It feels wonderful to wear though – the sleeves are swishy and the whole dress feels airy and floaty.
This red and white version is actually the original prototype for the dress, which I made in my size so I could trial it. The fabric is a drapey polyester, very sheer but you can't tell in the photographs. The boho dress in the book is rayon.
A feature of this dress is the voluminous sleeves, which particularly suit tall women (the book model is 5'10"; I'm 5'6″).
The pattern for the boho dress is a tessellating pattern, which is a useful technique for creating curves in zero waste patterns (curves can be hard to do in zero waste; rectangles are so much easier!).
Tessellating patterns fit perfectly into one another, and the interlocking pattern is designed to continue infinitely. Examples of tessellating patterns are floor tiles, patchwork quilts, honeycomb, jigsaw puzzles and artwork by MC Escher.
This concept can be used for cutting garments. Essentially, it's top-and-tailing perfectly fitting pattern pieces. Here's what the pattern pieces for this dress look like:
This is a very simple tessellating shape, but there's much more potential for developing sophisticated garment shapes.
Only 5 weeks to go until Publishing Day!
Cheers!