The knit fabric experiment
The zero waste hoodie top pattern is almost here! Are you sick of hearing about it yet?! (No? Last week's post is here.)
The pattern is with the Editor at the moment, getting checked, wormed and vaccinated before it's released into the world.
So this is a short blog post to show you the knit fabric experiment.
This pattern is actually designed for woven fabrics, 112cm/44″ wide – the idea being it's an easy-to-come-by type of fabric, ie anything in a quilting shop.
The knit fabric experiment was to see what tweaks needed to be made if someone wanted to use knits, with some encouragement from Donna-in-the-comments and some input from the Editor.
So here it is made in the vintage argyle knit. It's not zero waste since I had to cut around a golfball-sized hole (but the pieces are cut correctly).
It's also a bit shorter because there wasn't as much fabric as I thought there was. (It was cut skewed on one end….even though (sigh) there was a line of diamonds to follow).
You can see I replaced the tab and hood drawcord with a woven fabric.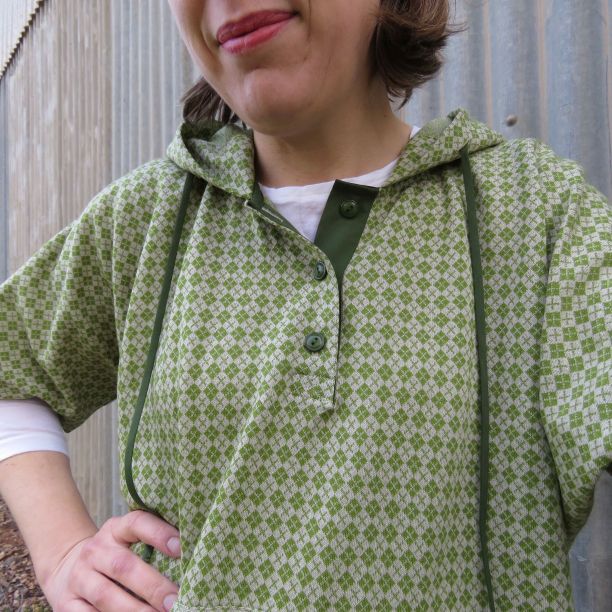 I also left off some of the details (shoulder reinforcement and pen pocket).
It was a curious fabric to sew. I think it might be from the 1960s. It's very drapey and doesn't crease with handling yet creases beautifully with assistance from a steam iron (low setting).
After I'd cut it I discovered it's a two-way pattern. Can you tell in this photo? The left side looks brighter with more distinct knit stitches, while the right side looks duller and flatter.
I looked through the button jar for suitable buttons. It can be tricky to find new haberdashery to match old fabrics because the colours are so different – and anyway, all the shops were shut when I was sewing. Maybe these are the same era as the fabric?
On reflection, I think I would go down a size for this particular knit, but I might not if it was a thicker knit.
So while the knit fabric experiment isn't the kind that needs to be classed as "successful" or "unsuccessful" (although the top is very wearable), it was very worthwhile for writing helpful addendums to the instructions.
Please come back next week when all will be finished! Really! Finally!
Cheers!
PS here's a blooper for you: