Yep, on the weekend I made a pair of zero waste underpants. The pattern is by Zero Waste Wardrobe; it's a free pattern that's part of a personal design project by clothing and costume designer Saara Jolkkonen.
The mission of the project is to provide a free (creative commons licensed) collection of zero waste patterns which could form the core of a woman's wardrobe. It aims to make the zero waste design method and process visible, and to encourage people to try making clothes themselves.
The current patterns in the project are: 2 types of bra, 2 types of t-shirt, a collared long sleeve shirt, a casual dress (shirt dress style), 2 types of hoodie and sports leggings. Coming later are a sports top, quilted jacket, jeans, party dress and light jacket. The garments are all one size (38) but the underpants come in S-M-L-XL-XXL.
As far as I know, this is the only zero waste pattern for undies available. There isn't one for men.
The website is in Finnish. Go to the home page and click on Vaatteet in the top right hand corner, then scroll down to see all the projects.
The underpants were featured in the Open Source Fashion Cookbook. @sewnotcomplicated made them in bamboo jersey as part of her #makenine2021 challenge.
I do wear homemade undies – I've been making them since my late teens when I was a junior at Jem Leotards. One of the perks was that we were allowed to use the machines during lunch break, and we could buy fabric at staff discount. Everyone there made their own undies and kept their own personal pattern at work. I actually don't make undies very often because homemade ones last such a long time. The current set has been in daily rotation and weekly wash for the past 5-6 years and are all still fine. I admit I prefer wearing sturdily constructed full briefs, to give a better line under clothes, and honestly they're so large I sometimes fleetingly mistake them for children's t-shirts when I'm hanging out washing!
The style of these zero waste underpants is panties/briefs and the pattern is a pdf. I made a size M (I have hips/seat 40″ and waist 30″). For fabric, I had some mauve cotton lycra at home and used that. I wasn't sure how stretchy it should be (the pattern calls for organic cotton jersey – as in t-shirt material??) but it turned out to be just right.
The instructions aren't illustrated but they're not hard to follow.
I sewed mine with a mini zig zag on my regular machine (6mm seam allowance). For the leg hems, gusset attachment and waist elastic I used a pretty stretch scallop stitch.
Sorry, I can't bring myself to put photos of me in underwear on the Internet, so here's a flat lay photo instead.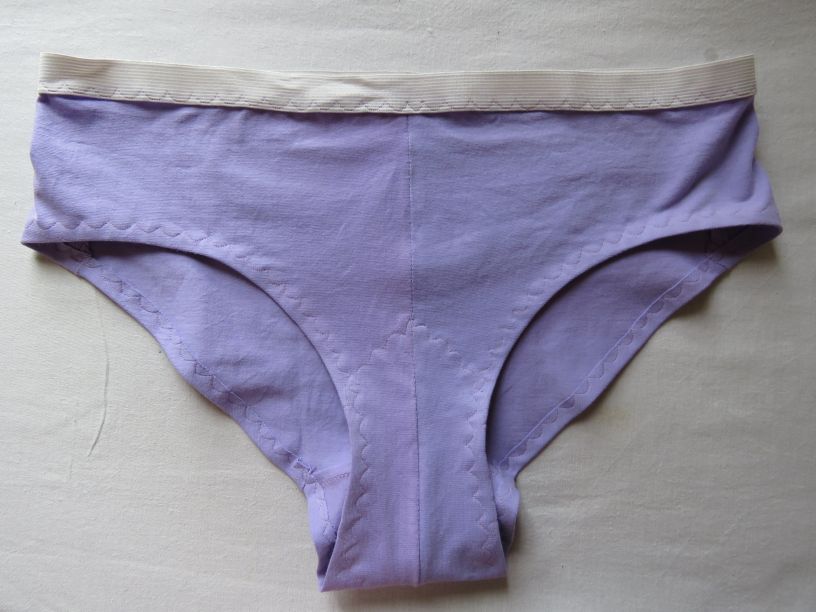 I admit I was hesitant to make undies with a central seam in the gusset. Would one notice the seam while wearing them? It turns out that one doesn't feel the seam, although if I were to make another pair I would switch the central seam to the back and have a seamless front (then there wouldn't be a seamed front and a seamed gusset). So it wasn't a big deal after all.
The other point I was doubtful about was that the legs are just finished with a 1cm hem, with no elastic. I resisted tweaking the pattern in the spirit of accurate reporting. I wore the undies for an afternoon and most certainly the absence of leg elastic did move the back leg holes into the abyss, but this is fixable; I'll just thread narrow elastic through the hems and that should hold things in their place. For a future pair I would either sew in elastic or (more likely) cut bands of the same fabric to finish the legs. Again, not really a big deal.
The verdict:
Like many zero waste patterns, this one is fabulously economical on fabric. Mine took 48cm x 32cm, which would give me 3 pairs in just 32cm of 150cm wide fabric. That's 9 pairs in less than a metre (and at $24pm, it's only $2.56 per pair for undies that last years).
What about the fit? The front is excellent – leg cut and crotch width are great. The back has less bottom cover than this full-brief wearer is used to, although bear in mind I wore them without any elastic in the legs. If you're comfortable wearing this style of undies I would recommend trying them.
If you've never sewn undies before, I think these would be fine to try out as your first pair.
Cheers!
Update: I revisited this pattern the following week and made full briefs and the week after that resolved the non-zero waste gusset.