New Pattern: the Sandie shirt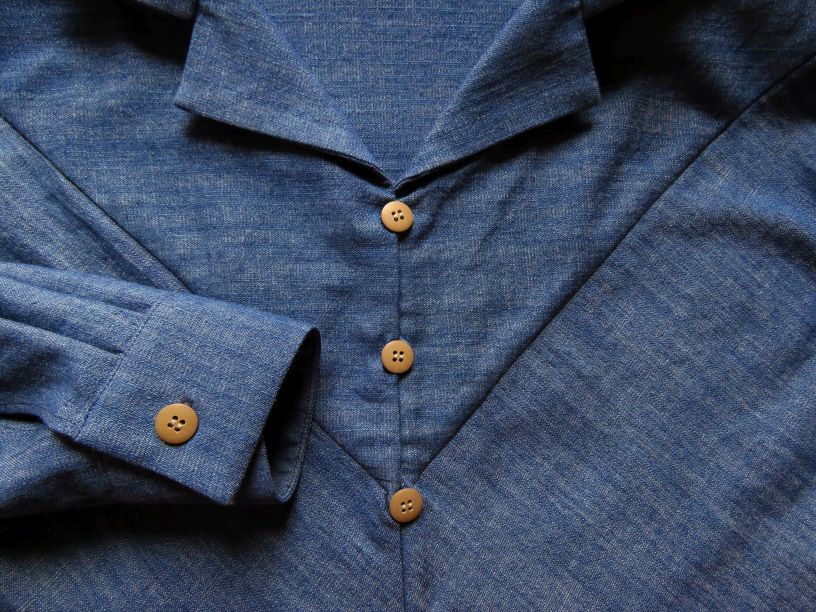 Finally! Introducing my new pattern, the Sandie shirt.
It's in my shop now; please enjoy 25% off during May.
This pattern has taken a long time to develop and write, and it's the most ambitious one I've attempted yet. I'm extremely happy with it – the samples have firmly worked their way into my wardrobe and I think I've found my new favourite shirt pattern 🙂
The Sandie shirt is a classic shirt featuring V-shaped double yokes, open-neck collar, long sleeves with cuffs, bias-cut body, shoulder gussets and a button & loop front closure. The triangular gussets and yokes form an almost patchwork quilt-like detail on the shoulders. The pattern lends itself to fun variations in cut and embellishment, making it very versatile – I'll be showing you some of these next week (update: here they are).
Sandie began as a zero waste pattern and along the way became a minimal waste one to accommodate a wide size range and variety of fabric widths – some size and fabric width combinations might result in a zero waste shirt. Either way, it's very economical on fabric; the pattern uses around 25% less fabric than a regular shirt and yields usable-shaped offcuts.
The Sandie shirt comes in fourteen sizes, from an 86cm/34″ bust to a 152cm/60″.
It's designed for stable woven fabrics such as lawn, linen, chambray, lightweight wool, poplin, quilting cotton and shirting in plains, stripes or checks. The cutting layout can be adapted to suit various fabric widths.
Who's Sandie?
The late Sandie Davies was a colleague at The Sewing School where we were both sewing teachers. I didn't see her very often because our classes were on different days, but I was rather in awe of her. She'd been sewing for longer than I've been on this planet and she was one of those people who are calm and kind. She was very generous with her sewing knowledge. Sandie was a huge fan of Liberty Tana lawn and wore beautiful shirts in this fabric. We think Sandie would like this shirt.
Sandie's taste in fabrics was first-rate. If you're in Adelaide, the last part of Sandie Davies's huge stash of fabrics, notions, books and patterns will be sold on the 15th & 16th May, Hungarian Club, 82 Osmond Terrace, Norwood (bring your own bags, cash only).
Here's a gallery of Sandie shirts: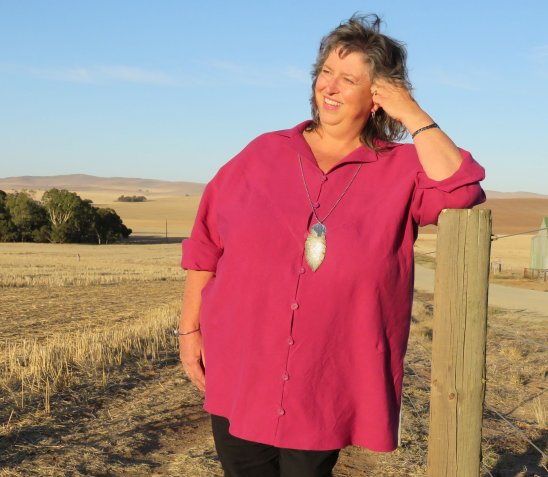 While this is no "5-minute make" (it takes me a day and a half to cut and sew one) it will give you a very satisfying sewing experience. The cut and construction are unorthodox and require some sewing experience, and if you're a shirt wearer & sewer looking for something interesting, this could be it.
Cheers!
UPDATE: thanks Rachel-in-the-comments for asking more about stripes. Yes, stripes will fall across the body diagonally in the same direction.