Making the Simone low-waste overalls
The Simone Overalls are a low-waste pattern developed by Emily of Goldfinch Limited, a sustainable textile studio.
We met on Instagram, and she was writing the overalls pattern as I was doing the Xanthea top. I suggested we do a pattern swap, since overalls and t-shirts go well together. Xanthea was ready first and Emily handstitched a sleeveless version.
Now it's my turn to try the overalls. I had a piece of linen on standby for a while, but at the last moment I changed my mind and decided to make red overalls from some firmly woven red cotton. I think they will be more durable.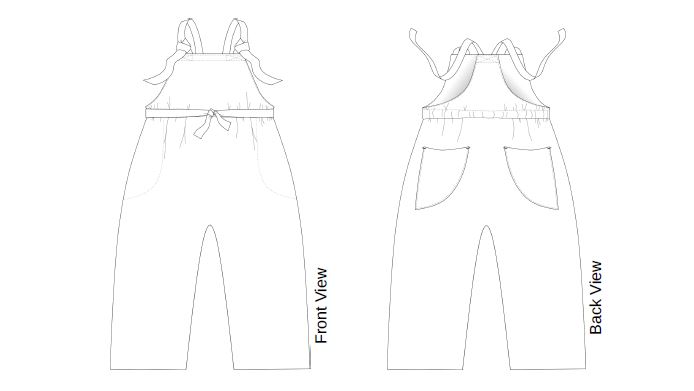 The pattern comes in 7 sizes, to fit a 34″ to a 74″ hip measurement, with an option to self-draft the pieces to fit your body measurements and preferences. I fell in between sizes and decided to make the lower size (me: 40″-ish hips, made size A designed for 34″-38″ hips), as there's a reasonable amount of ease allowed.
Simone is a low-waste pattern, and the pieces are modular and can be moved about to fit various fabric widths. It could be zero waste depending on your size and fabric width.
The cut and construction of the trousers part of the overalls is very similar to the free scrubs pattern on this website, so if you've made these you'll be in familiar territory.
All the pieces are drawn straight onto the fabric, using a print-out template to get the curves on the bib. It's quite quick to cut out.
The fun part was deciding how to wear the overalls…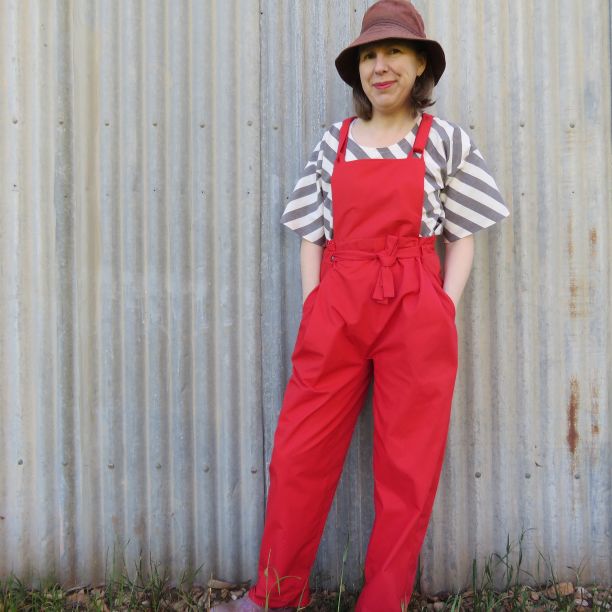 These overalls are very versatile not just in ways-to-wear, but also in how they're constructed. Emily gives us a couple of methods of finishing the seams for a very neat interior finish, with no overlocker required. This is one of those garments where you can make the finishes as simple or fancy as you want.
The other great thing is that these don't need any hardware – all you need is fabric and thread. So if you already have suitable fabric at home you can just go ahead and sew.
If you're reading this because you're planning to make a pair, I recommend checking the given bib dimensions before cutting out as everyone has personal preferences (I made mine a bit wider). I added extra length on the trousers too, as I like the hems to sit over my shoes (I'm 5'6″). The pattern has an excellent table of finished garment measurements.
These are amazingly comfortable to wear and I'm looking forward to working them into my wardrobe.
Cheers!
UPDATE: some ways to wear these overalls.