From waist bag to backpack
Years ago, in the city on a stinking hot day, I saw a young woman on a bicycle, freewheeling along the city street. She was wearing a strappy sundress, sandals, and had a tiny backpack/handbag on her back. She coasted past me as I walked along the hot pavement, and I rather envied her looking so cool and free.
I remembered her tiny backpack – so impractical as backpacks go but just right as a handbag on a bike.
After I made the zero waste waist bags recently (which you can read about here and buy the pattern here), @william_howthehell on instagram suggested converting the larger waist bag into a tiny backpack. I tried it out, and it worked brilliantly!
Here's a quick snap of the original bag – it's designed for walking or cycling and can hold up to three water bottles.
It folds in half to make a smaller, more regular-looking waist bag: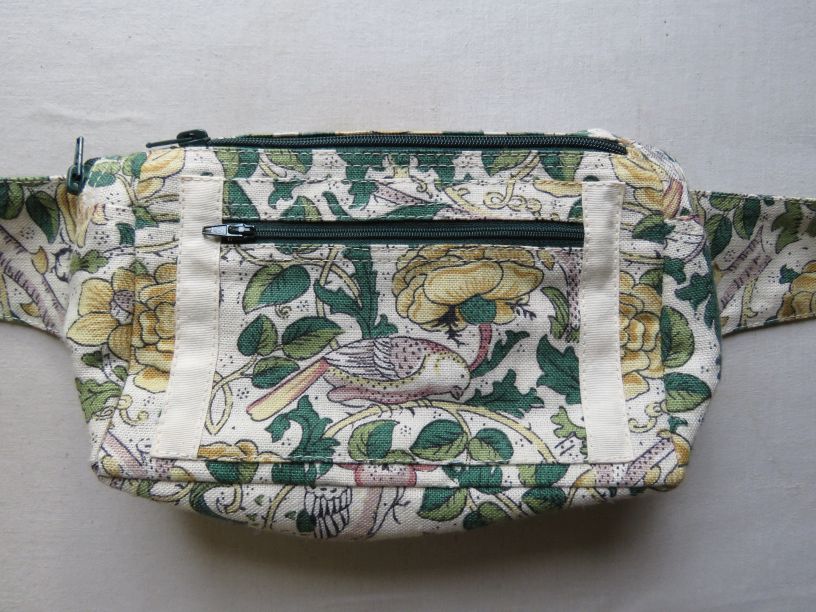 I unpicked this sample a bit for "proof of concept". The changes to turn it into a backpack are minor.
The waist straps get sewn to the top of the bag instead of the sides. I kept the top handle. Here's mine, tacked into place.
The straps need to be overlapped in the middle and fitted onto the curved top of the bag – here's a diagram:
2. The webbing needs to be longer. Luckily I had some spare webbing so I could change it. For now it's just pinned on but I'll cut each webbing strap at 43cm/17″ long and stitch them into the corners of the base.
To determine the length, sew each end of the length of webbing onto the straps and try the bag on with the length pinned. Walk around with the loop of webbing dragging inconveniently on the floor to check it before you commit to cutting.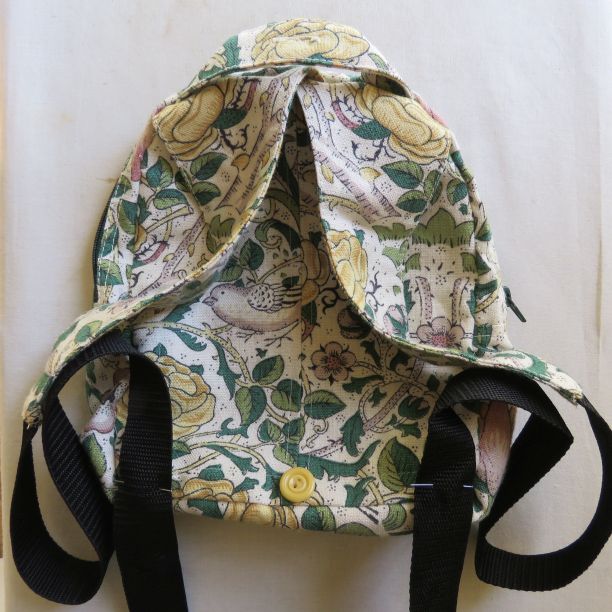 3. What if you want adjustable straps rather than a set length? Sew something like this at the lower corners of the bag:
You could also adjust the straps with buckles cut off old sandals, old backpack clips or even ties. The webbing straps don't have to be webbing – they could be made from fabric or an old belt cut up.
4. The backpack doesn't need the button and buttonhole, nor the front horizontal zip.
Cheers!