Exactly 30 years ago, as a fresh-faced 19 year old, I got a job at Jem Leotards as a junior cutter/patternmaker.
We happened to be in Adelaide during the past week, so I arranged to go there, as kind of a "commemorative visit".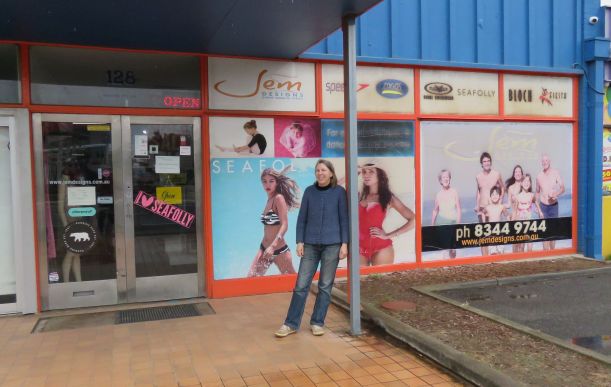 Jem Leotards is now called Jem Designs and is a shop with a factory at the back; I worked in the factory part for 2.5 years, before leaving to go on a biking tour of Europe.
The visit was bittersweet. When I phoned to check the factory hours the previous week, they had just made the difficult decision to close down, after 40 years in business. In spite of their best efforts, Covid and all that went with it has forced them to close. They are due to close early November.
The factory had not changed much since I worked there.
Some of the same staff were there – it was really wonderful to see them.
Unfortunately I have no photos of when I worked there, so I can't show you anything from back then. Actually, in a 20-year manufacturing career, I have less than half a dozen photos of me at work. Mostly because I didn't own a camera for a long time, but, y'know, you go to work to do work, not take selfies.
Jem was a remarkable place to work, with very talented people. Also very interesting. Jem made a huge range of things from stretch fabrics: fashion swimwear, mastectomy swimwear and chlorine-resistant prosthesis, aerobics/gym wear (you may remember, aerobics was BIG in the early 1990s), leggings, sports uniforms, school bathers, ballet clothes, cycling gear, posing briefs/bikinis for body builders, calisthenics costumes and parachute tracksuits, to name some.
Sometimes there were unusual special orders. Once we did leotards for circus trapeze artists (then they added the sequins). Another time we got a government tender to supply police scuba rescue bathers, and we did uniforms for the Australian Netball team.
As well as making patterns and cutting, because I was a junior I did things such as sweeping the cutting area, putting patterns away and doing unpicking for machinists. On Monday mornings I cleaned the toilets – a job I only handed off when I left, to a new junior.
Testament to the excellent making and quality fabrics used at Jem, I have several items that are still being worn 30 years later. My daughter now wears the blue nylon lycra swimsuit in this post's header, which was a Christmas present (every Christmas, staff were allowed to choose a swimsuit to have made in work time, as a gift). A couple of pairs of cotton lycra leggings are still going strong, too.
Jem is (was! sob!) one of the very few manufacturers left in South Australia, or even Australia, and has highly skilled staff comprising decades of experience in swimwear. It was a great chance to work there when I was younger, and very tough to see them go.
UPDATE 10th Nov 2022: Jem have now closed their retail shop, but the manufacturing part has moved to Norwood Sewing Centre and will continue to make wholesale orders.