3 places to get design ideas
Sometimes I get asked where I get ideas from. I get great ideas from all sorts of places, but primarily these three…
Professional library
I've been slowly building an at-home professional library for some decades now, and I now that I work at home I find it extremely helpful. Some of the places I've worked at had their own libraries, with fashion books, magazines and text books.
The home library is supplemented by borrowing public library books. I do this LOTS – to the point where I occasionally have my own section on the Holds trolley.
I find the "source book" type books very useful for deciding on details. My favourite is Vintage Menswear.
Here's a sample of my shelves…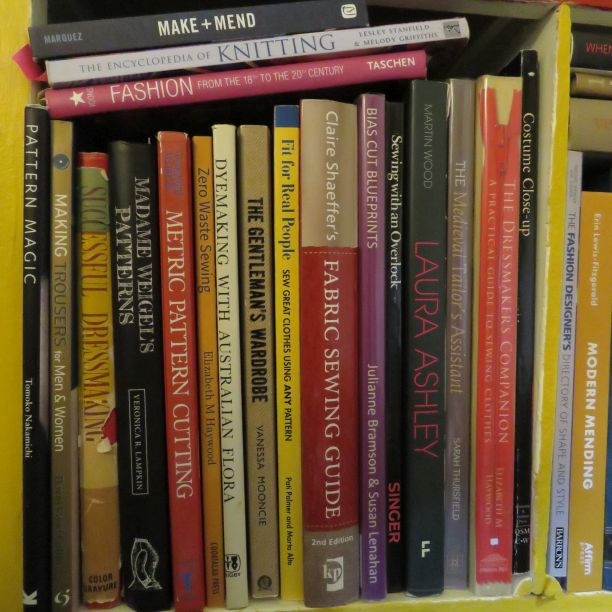 Collect ideas when you see them
When you see a great idea for something, capture it!
I'm a big fan of collecting ideas in a sketch book as either notes or sketches, and sometimes I paste in pictures.
The sketch book allows the ideas to be built on, and then becomes the ideas source itself. I keep the back issues in my library and look through them if I'm stuck for inspiration.
Here are some examples of sketchbook-to-finished product, where you can see the original idea and where it ended up…
I also cultivate Pinterest boards for anything I happen to see online.
The fabric itself
Doing creates ideas. Great ideas turn up while you're working on something. Ideas for creative details and finishes present themselves as you work with the fabric, and of course part of this is the inevitable problem-solving that comes with making clothes. To quote myself: let the fabric inform the design direction.

Cheers!