The zero waste geometric top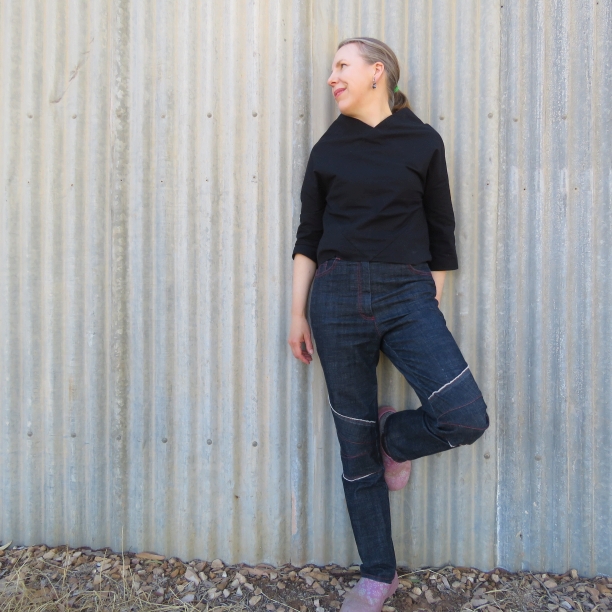 It's less than 7 weeks until Zero Waste Sewing is set free in the world! Or unleashed, as my husband is fond of saying. Leading up, I'll be making some of the projects from the book on this blog, and today here's one of them.
The Geometric Top is composed of 2 squares, 2 rectangles and 2 triangles. It has a sculptural-looking neckline and looks good in prints, stripes, Ikat fabric and plains.
The idea for it began more as a challenge than inspiration: could I make a top from woven fabric that doesn't have zip or buttons? (and of course is zero waste.)
Here's the rather unflattering-looking flat sketch:
Here it is in the book:
Here's me wearing the book's sample:
The fabric is actually an op-shop tablecloth we were using for playing lego on, which got commandeered for a higher cause!
I've made a new Geometric Top in black, a colour I rarely wear although I used to have lots of black clothes. I find it depressing and harsh to wear black now – I got better at using colour and fell in love with it. However, this top could be The Exception That Makes The Rule. It could go with lots of things, not show the dirt, and look a bit different from your regular black top.
The sleeves on this top are slightly shorter than the one in the book – the sleeve length can be tweaked according to the fabric width.
So hard to photograph without making it look like a silhouette, but this over-exposed shot shows it better…and shows all that dust and fluff too.
Thinking it would look good with above-elbow sleeves, or piping in the diagonal seam lines, or in a textural linen, or tartan……
Cheers!