The Mayor with Flair: An interview with Allan Aughey OAM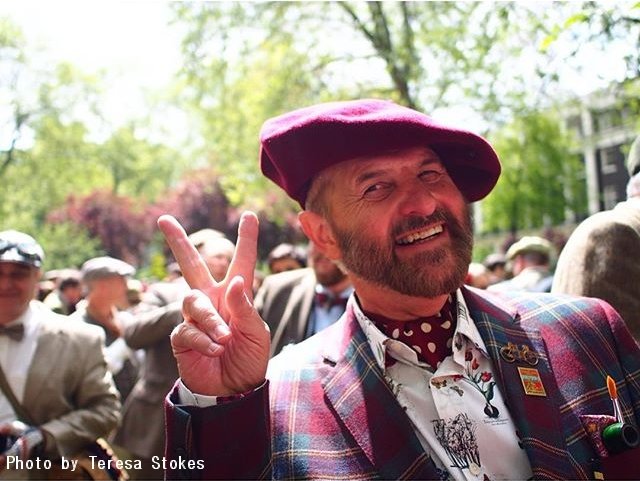 Mayor Allan Aughey is known for his colourful and interesting clothes as much as his passion for regional development.
He has been mayor of Clare and Gilbert Valley since 2006 and previously was deputy mayor of the Pt Pirie Regional Council.  In 2015 he was awarded an Order of Australia for services to local government and the arts.
He very kindly agreed to answer my questions on style, image and identity.
Have you always enjoyed clothes?
Yes, ever since I was young.  I can still remember my excitement at buying my first outfit.  We were on holidays at Glenelg when I was around 8, and I bought some swimming trunks in mission brown with orange, white and yellow stripes.
Did my family enjoy clothes?  I would describe my mother as stylish and my father as a man aware of proper dressing.
How would you define your style?
Eclectic, like a bower bird.  I get inspired by a fabric, a button or even a shoelace and try and work around that.  I love the challenge of co-ordination and detail.  Detail is often overlooked, but it's so important.
Where do you get your unique clothes?  Does someone make them for you or do you sew?  Do you have a favourite fabric?
I get my clothes wherever they are; they hunt me out sometimes.  If something catches my eye I don't care about the source—vintage, high-end tailor, department store.  I don't sew—would love someone to make them for me!
I'm not stuck on labels or label conscious.  My fashion is about eclectic.  I feel people get corralled into buying the label rather than the clothes.  I don't have a favourite fabric, I just love fabrics in general, textiles, textures, colours, love black, love white.  I find fabrics are the greatest limiting factor—you're hampered by what you can buy, especially in Australia.
Is there a person who inspires you style-wise?
No-one in particular, just a whole range of people…seeing how people dress on the street.  The New York Times photographer Bill Cunningham, who I met, photographed people on the street.  He said the fashion was through his lens and he himself always wore a plain blue jacket.
Clothing can be a wearable art form and a contribution to making our public spaces and communities more interesting, vibrant and uplifting.
Your dress has become part of your identity as mayor; what are your thoughts on image management strategy for public figures such as politicians?  Do you think a person's image and public identity really changes the way people vote or just cements perceptions?  Do you think women are scrutinised more than men?
An interesting issue.  Image management strategy is an anathema to me—you've got to be true to yourself.  Using fashion or anything else as a way of artificially portraying yourself is phoney and inauthentic, and unauthenticity is unacceptable.  It's a putrid approach to dressing.
Does image change the way people vote or cement perception?  I think possibly both.  While I'm not a politician, people can vote for me how they like; I give myself up to democracy!
Definitely I think women are more scrutinised than men.
Is there a public person whose image and sense of style interests/intrigues/inspires you?
Anyone from the Duke of Windsor to Bryan Ferry—anyone from across the board; no particular person or group.
Again, the depth of inspiration is curtailed by the availability of materials, more keenly felt in the country, however I do get inspiration from living in the country…seasonality, natural landscape, colours.  Travel is also an important component to inspiration.
I notice you choose plain navy jackets for RSL events, colourful ones for art exhibitions and an Aussie flag one for Australia day.  Do you have a particular favourite ensemble?
I do try and dress for the event and subject matter.  It can be challenging but it's my own little way of honouring that event; my own personal tribute to the occasion.
I don't have a particular favourite outfit, I love them all.  I don't see myself as a slave to fashion.  I choose carefully and keep my clothes for a long time.  If you fall in love with something and get it then the occasion to wear it will find you.
Did you ever arrive for an event and realised you'd chosen your outfit unwisely?
Never, but I'm sure some of the audience have thought so!  I have had to do the superman thing in public toilets because my schedule's so tight, so that I'm appropriately dressed for the next engagement.
I've seen you riding in Old School cycling attire; tell us about The Tweed Run* in London
I've been doing it for years.  I think I missed the first one, but I've done 7 or 8 and I did one this year.  I love the luxury of riding around on semi-closed London streets.  I meet the same people each year and catch up before and after.  It's so friendly with a lovely atmosphere.  I love the appreciation of good manners, doffing one's hat to ladies.  Everyone looks splendid, with inspiring attention to detail.  I wear a different outfit each year.
Some of Allan Aughey's fine threads can be viewed here.
*The Tweed Run is a 12 mile cycle route through Central London. Participants wear their finest tweeds, brogues and flat caps for a stylish race through the streets of London.  Take a look at some of the fab fashions here on Instagram.  More Tweed Run photos by Theresa Stokes are here.