Recommended Reading: Talley, Fassett and McMaster
Yes, Talley, Fassett and McMaster sounds somewhat like an academic paper, but they're the authors of three interesting books I've just finished reading.
The Chiffon Trenches – a memoir
The Chiffon Trenches – a memoir by Andre Leon Talley (2020 Harper Collins). (Note: small very font.)
I was alerted to this book after reading Andre Leon Talley's obituary earlier this year. I loved the title. Talley had a long career in the fashion magazine world as a journalist, editor and creative director.
As many memoirs do, he starts at the beginning with his childhood, living in North Carolina and being brought up by his Grandma, even though both his parents were still alive. At 9 years old he discovered Vogue magazine and his passion and purpose became immediately clear.
He went on to study French literature at university, became a confirmed Francophile and wrote for his college mag. From there he did an unpaid internship at the Metropolitan Museum Costume Institute and met Diana Vreeland. She found him a job at Andy Warhol's Interview magazine, where he was to meet Karl Largerfeld. Talley's next job was in Paris as bureau chief for Women's Wear Daily, where he made many friends but also enemies. After a brief time at Ebony magazine in the US ("the black community's answer to Life magazine") he landed at Vogue in New York.
Talley writes about being a black man in a white space and the racism he encountered. He was often the only black person in the room. He was a big advocate for diversity in the fashion world.
Talley was friends with famous people in the fashion world, but although the friendships sometimes lasted for decades they seemed fickle. He watched as they discarded other friends from their circle as they were no longer valuable, never seeming to think it might happen to him. Eventually it did.
The book is a bit like The Devil Wears Prada. There's high glamour and gasp-inducing amounts of money spent on luxury. There's also narcissism, broken friendships and jealousies.
Yet Talley's writing is positive and his writing style engaging, and I felt he would be a wonderful person to hang out with. Certainly his memoir is a captivating and entertaining read.
Kaffe Fassett in the Studio – Behind the scenes with a master colourist
Kaffe Fassett in the Studio – Behind the scenes with a master colourist by Kaffe Fassett (2021 Abrams)
If you've read any of Kaffe Fassett's books you'll know what to expect: page after page of beautiful photographs bursting with bold colour and pattern.
This book is a tour of Fassett's house, part of which is also his studio. He has lived there for 50 years, and predictably has accumulated much! He writes about how he came to live there and guides us through the important rooms of the house and their history. He refers to his house as a "colour lab".
The book's studio theme extends to the people he collaborates with and his collections of pottery, textiles and books. There are examples of how these things influence his design process, from the start of an idea through to the finished thing. What I hadn't expected is that there are instructions for making some of them at the back of the book.
This book is a wonderful feast for the eyes and inspiration for using colour.
Silo The Zero Waste Blueprint – A food system for the future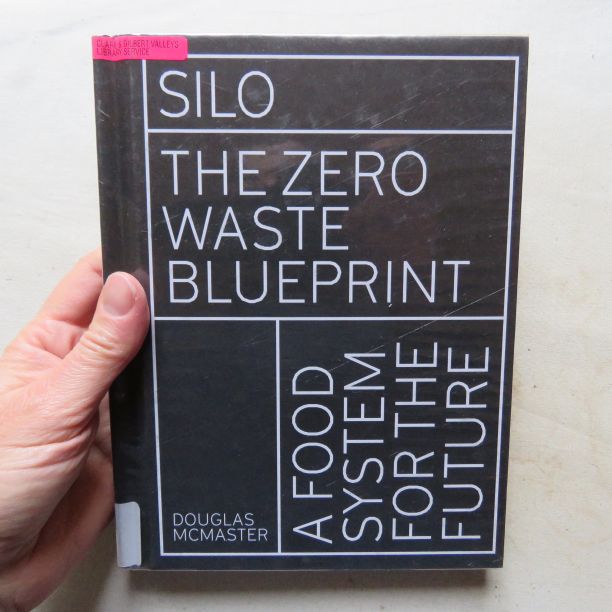 Silo The Zero Waste Blueprint – A food system for the future by Douglas McMaster (2019 The Quarto Group)
This isn't a sewing book, but it gave me much to think about.
Silo is the name of the (world's first?) zero waste restaurant in Brighton, England – now closed but open when the book was written. The author is chef Douglas McMaster, who owned it.
McMaster dropped out of school at 16 and worked in restaurant kitchens, one of which was influential in shaping his ideas on cooking and encouraging intuition. At 21 he won the BBC's Young Chef of the Year on TV. He then traveled and worked in more restaurants, looking for his own purpose and success as a chef.
In his book he describes how he came to open Silo and how he managed it without any waste. There is much practical advice.
Beyond not generating any waste from the restaurant, he wanted to use ingredients which had previously been considered waste such as nettles, animal fat, herb stems etc.
Silo made use of foraged food including weeds and invasive species, food that was going to waste and food bought direct from farmers. Everything was made from scratch to avoid packaging – grain milled to make bread, butter churned, carcasses bought whole and butchered etc, with the benefit being amazing flavour and freshness. Every bit of everything was used; there were no by-products, only products. The restaurant had a compost machine.
There were so many considerations it was almost exhausting to read. For example, how do you buy ingredients with only compostable or re-usable packaging? What do you do with all the buttermilk left from churning butter? How do you clean a restaurant kitchen, zero waste? The ingredients they bought from farmers were inconsistent by choice, so how do you follow a recipe when the cream from the cow is never the same twice? Is there enough space in the building for equipment needed such as mixers, mills, and bulk storage? How do you change your staff's approach to cooking? How do you buy ingredients which are not produced locally?
At the launch of Silo, a critic announced Silo will fail, however, Silo went on to be awarded Britain's Most Ethical Restaurant, people's choice. While the original Silo in Brighton has closed, a new one has opened in London.
There are parallels between the fashion and food industries – certainly both create huge amounts of unnecessary waste. The slow food movement came a long time before slow fashion but both continue to gain traction through people such as McMaster who want to change conventions and habits.
Occasionally I come across a library book which I like so much I want to buy. This is one of them.
In the interests of full disclosure, all of these books were from the library. Gee, I love my library!
Cheers!