Making Wendy Ward's zero waste trousers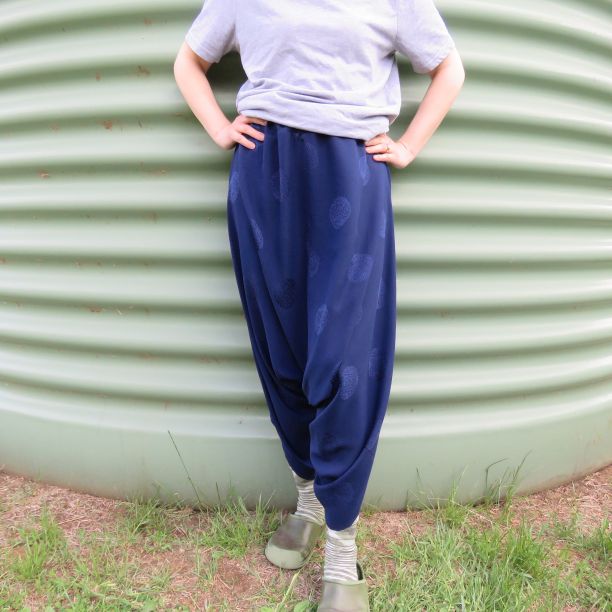 Some time ago I bought Wendy Ward's new book How to Sew Sustainably. Actually, I borrowed it from the library and liked it so much I bought a copy.
I really liked the trousers and dress made using the same cutting concept, and wanted to try them. Cleverly, the dress is the trousers turned upside down with a neckhole cut. However, being completely honest, neither of them are "me" and I just couldn't picture myself wearing them.
I thought of the trousers again after I tried making some low-crotch pajama shorts earlier this month, which weren't 100% successful but the blog post's comments had so many great ideas that you could say that it was a success in other ways. Encouraged, I thought I'd try the trousers in this book using a silky fabric.
In the past, I've had mixed results with low crotch trousers…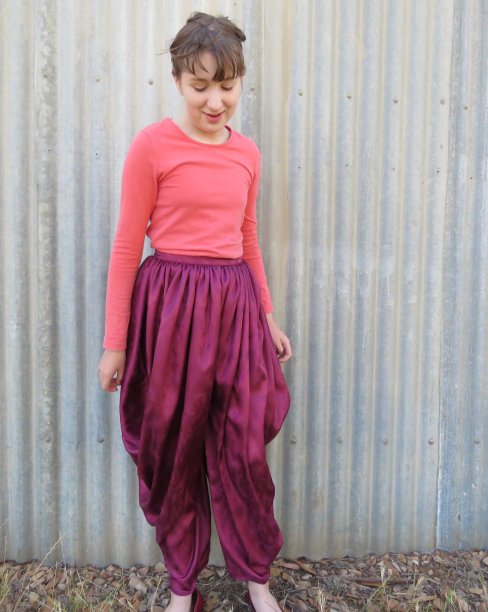 So I'd say the rate of success is about 50/50.
The trousers in How to Sew Sustainably are cut from a single rectangle, and are a good example of a flowing garment cut from a geometric shape. It's also an example of thinking differently about how the fabric covers the body instead of just a simple front and back.
For fabric, I used some navy silk from the op shop. It's satiny one side (the reverse side) and matte on the other. It's only 70cm wide.
Like many zero waste patterns, the pattern is drawn straight onto the fabric with custom dimensions to fit any size body. However, as I wanted to make it fit my 70cm fabric width, I needed to sort of reverse-engineer the pattern. Paper model to the rescue!
I found that this trouser pattern works with a particular minimum size fabric rectangle (ie bigger than 70cm) and I ended up sewing two lengths of fabric together, so mine have a central seam.
They went together pretty easily.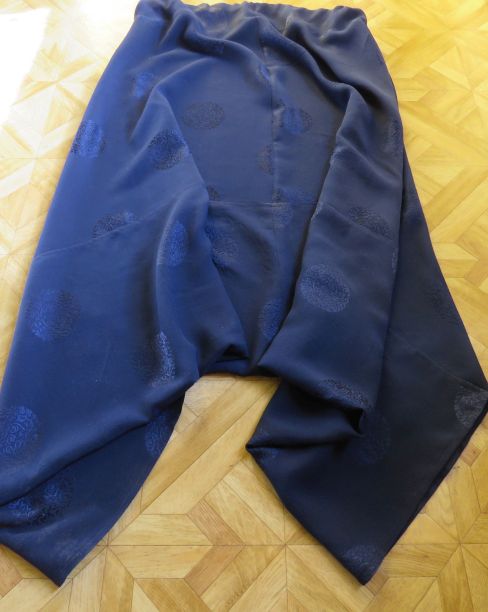 They fit me or my teen. She totally rocks them! I think she'll wear them for lounging at home, but she might try them out as pajama bottoms.
Verdict: interesting and easy to sew, amazingly comfortable to wear (in part due to the silk), and after originally deciding this pattern was something I wouldn't wear, I've changed my mind.
Cheers!