Making Danielle Elsener's zero waste scrub top
The free scrub pattern I did last week led me to Danielle Elsener of DECODECODECODE's zero waste scrubs, and I thought I'd give them a go.
I'm fascinated that two patternmakers living on opposite sides of the Earth both endeavoured to make zero waste scrubs, took very different approaches, and produced such different-looking patterns which are still recognizably scrubs.
This pattern is very unlike a traditional pattern, even if you're used to printable PDF patterns.
The instructions are brief, however if you're familiar with sewing scrubs and how they go together, you'll be fine. If you're bored to tears with sewing scrubs, this might be the antidote!
There are extra seams in this top which one wouldn't normally have – centre back seam, central sleeve seams and pocket seams, however, the trade-off is a top that's extremely economical on fabric (this one took 58cm x 2m). One of the advantages of zero waste is that when we waste no fabric, we get the full use of what we do have.
I found some suitable fabric in my stash but unfortunately there was only enough for a top, not pants as well. While I have a reasonable collection of fabric to draw from, there isn't much in the "plain cottons" department, and I can hardly use sequinned lace or crushed velvet.
Here's how I did mine:
I made a size medium; the pattern has since been graded to XS – 2XL and has had a few tweaks.
There are 6-9 pages to print out depending on the size top. Note that you're not printing out whole pattern pieces for the back and front; just the bits you need (neck/shoulder/armholes). Some are printed portrait and some landscape.
The fabric is cut to the size indicated and folded in half longways.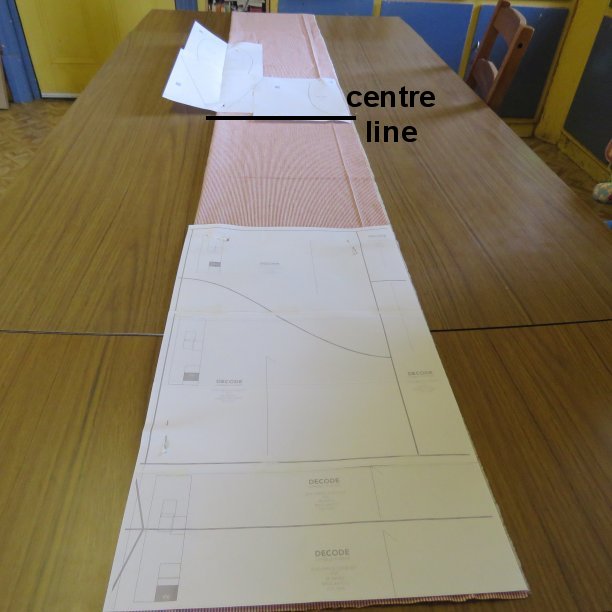 Before cutting out, measure the side seams of the body back and front to double-check that they're the same – if not, move the pattern piece so they are.
Here's the top cut out:
As with zero waste patterns, it was very quick to cut out because one scissor cut separates two pieces. (It also calls for cutting accuracy!)
A brief construction order would be:
Make V neck at front
Sew centre back seam
Sew shoulder seams and back neck facing (see below for pic)
Sew central sleeve seams to create whole sleeves
Sew sleeves into body
Sew underarm/side seams
Make patch pockets and attach
Hem and sew side splits.
The sleeves were plain sailing – there's no ease so they just fell in. The back and front sleeve are the same. I thought the sleeve head looked a little pointy, but it looks fine when sewn in and feels comfortable enough.
So, be encouraged to go on a sewing adventure and give it a go! It's a free, open source pattern which can be shared, adapted, and most importantly, used to support our health workers.
Cheers!