Makin' it Magic: the Japanese backpack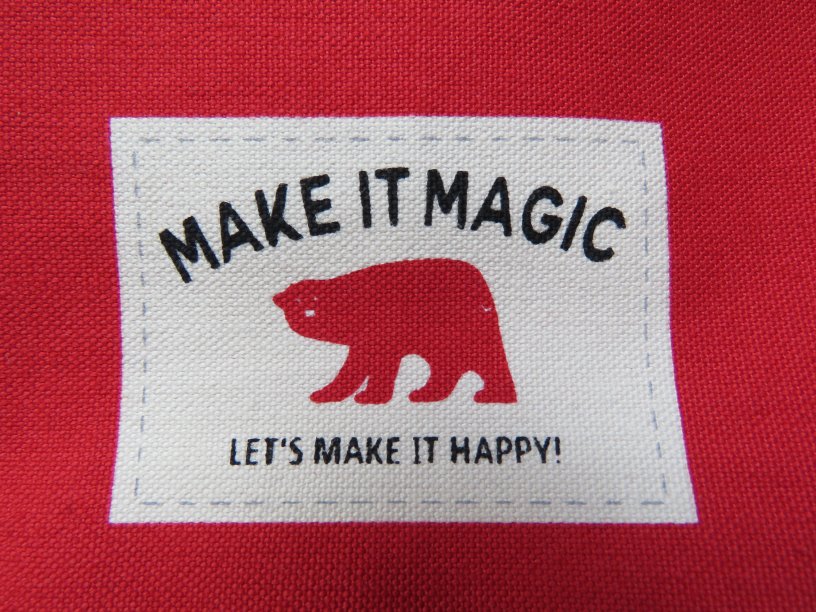 Some time ago, my mum went on a holiday to Japan and brought me back a backpack kit. It consists of a pre-printed panel and a single sheet of instructions.
The instructions are in Japanese but, as is the case with Japanese pattern books, the illustrations are so clear and thoughtfully drawn that a person who sews can easily work it out.
It's a cute idea and was very easy to make, essentially a bag with straps. There are only three pieces (2 straps and the one-piece bag) but included are extra badges for your own artistic embellishment (which I didn't use).
The fabric is similar to heavy backed curtain fabric. It shows every pinhole and unpicked line of stitching, of course.
The backpack kit went together very quickly and easily, even with a fitting part-way through. The straps were surprisingly long; I had to shorten them by 10cm.
The one thing I had reservations about was the top closure/flap. It looks like the opening of the backpack just flaps over…and secures how? I don't feel like the designer adequately resolved this.
I had a riffle through the button tin for fastening ideas and brought up: 2 D-rings, assorted sized buckles, a wooden curtain ring, some too-narrow but perfectly matching red twill tape and some white twill tape. I also had the leftover 10cm bits of the straps.
This is what I decided on: a pair of D-rings with twill tape.
The twill tape was a bit too white, so to make it match the off white/cream on the back pack I dyed it with some second hand tea bags, English breakfast no less. It didn't take long – the tape barely needed to glance at the tea bags to turn off white.
Yay! It's finished. I'm pleasantly surprised at how it turned out. It's modeled here by my favourite 8 year old who liked it too.
Cheers!