It was 20 years ago today
This week was our wedding anniversary and I got out my dress to try on. It last got an airing two years ago in this blog post.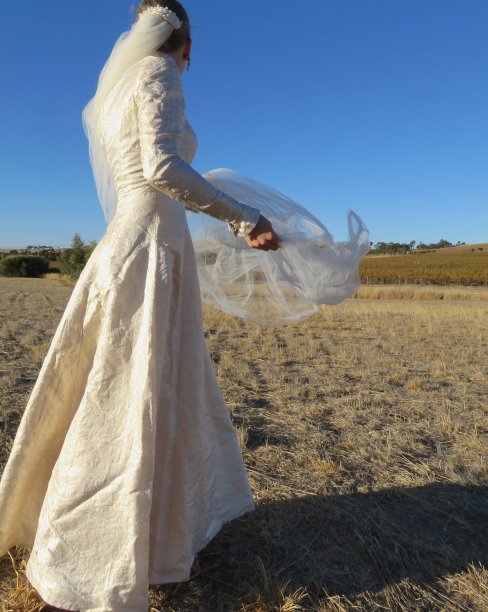 I can still get the zip up but the dress is uncomfortably tight. The days of trying this dress on are numbered: I got stuck both getting it on and getting it off – had to breath deep and ease it fraction by fraction over my shoulders (it's an over-the-head dress). I called for help but by the time someone came I was okay.
It's actually quite a covered-up wedding dress for its time. In 1999 it was strapless! strapless! strapless! which looks beautiful if you have lovely skin and shoulders, but I'm too scrawny in the decollete department.
I made this dress from fabric from (the now closed) Glynburn fabrics, with buttons from (the now closed) Buttonz 'n' Bows on Unley Rd and tulle from the (now closed) Johnson's Fabrics. The accessories came from (the now closed) Oh La La in the Myer Centre. I made the pattern for my dress but the bridesmaids dress is a (now out-of-print) Vogue pattern.
It was quite a traditional wedding. Here I am arriving at the church with my sister and my dad.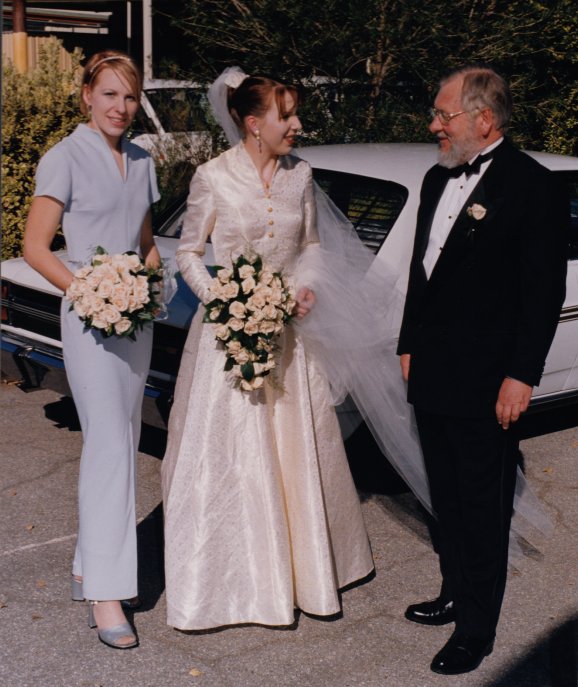 While getting out the dress, I also unearthed a box of wedding paraphernalia. There was a tupperware container with the icing roses off the cake (why do we keep this stuff? They are beautiful, though).
There was a crumbling corsage, the guest list, a bonbonniere, an assortment of bride good luck charms, earrings and headpiece, the ribbons off the cars and all the wedding cards.
This year is a bit special being our 20 year anniversary. It's gone by quite quickly. We weren't a particularly young bride and groom (in our late 20's) but it's funny to think that now we're old enough to be the parents of that smiling couple in the photos.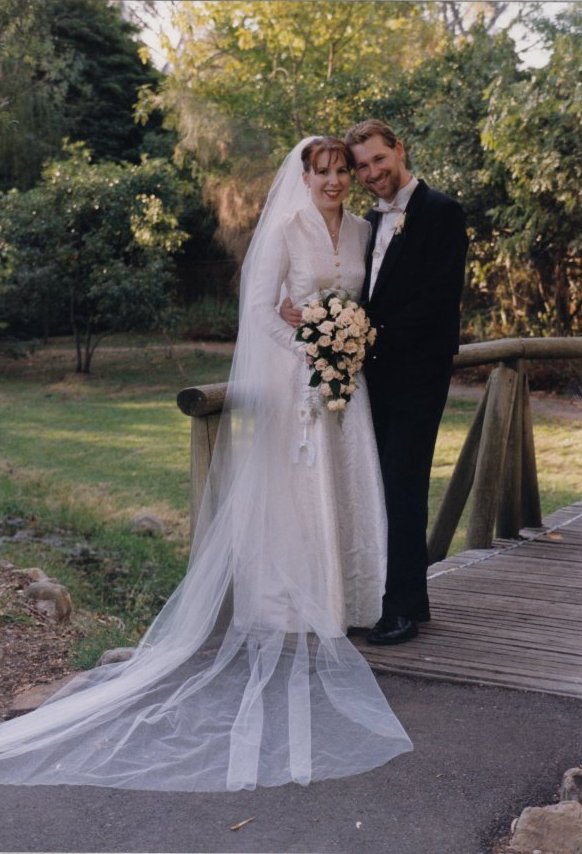 Cheers!