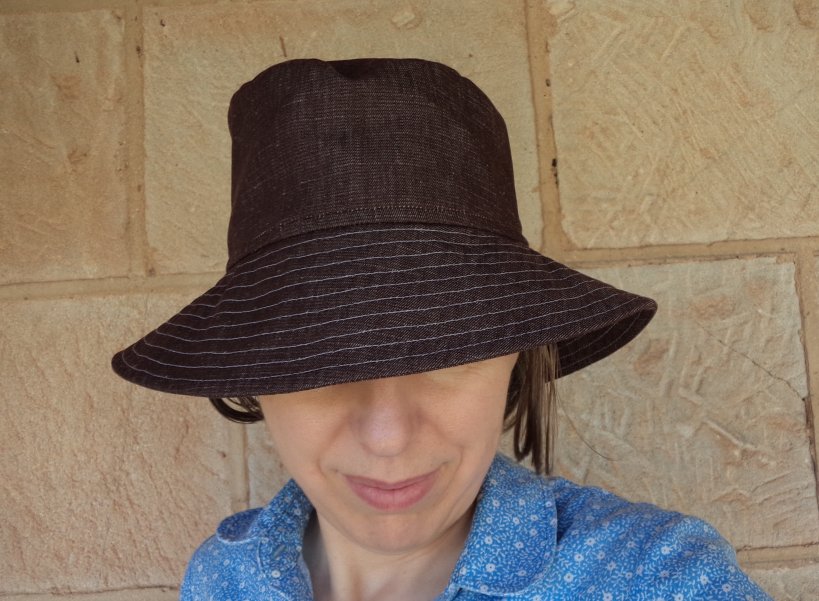 Are you a hat person?  Have you ever sewn yourself a hat?  It's been a while since I did a free pattern on this blog, but here is a hat pattern I hope you'll like.
This hat has an oval crown, with side seams on the crown's side and brim.  It has a slightly deeper brim than a classic bucket hat.  It's easy to machine wash and can be squashed into a handbag or suitcase.
Fabric: Suitable fabrics are quilting cotton, drill, lightweight denim or baby cord.  As always, choose a fabric that you love and will enjoy wearing.
I used brown linen for one hat and yellow spotty cotton drill for the other.  Both came from Spotlight a long time ago.  I was originally going to make a hat in baby cord (I was thinking of a Corduroy Day project).  However, while I was searching for fabric I came across these offcuts which I liked better, and ended up making two hats.
How much fabric?  If you're buying some you'll need 45cm of 110 wide fabric, and the same of firm interfacing.  A lining can be easily cut out of a fat quarter.  However, you probably have something suitable at home in that fabric stash or left from something else.
Choose a firm interfacing, preferably iron-on.  I used Shapewell (a firm woven sew-in) because I didn't have anything else handy.
Pick something fun for the lining; it will make you smile each time you put your hat on.  Here are the insides of my hats:
Sizes and fit: You'd be surprised how many people in this world have big heads and have trouble finding hats to fit (or not, if you're one of them).  A survey once in my sewing class revealed one in four are above the "average" 56cm (22″) head size.  This pattern is in sizes 54cm, 56cm, 58cm, 60cm and 62cm head circumference; pick the size to match the measurement of your head.  The pattern measures slightly bigger than the head measurement to allow for the stitching and the thickness of the fabric.  If you discover you need to tweak the fit, the interior ribbon can be cut up to 1.2cm (1/2″) smaller or bigger than the instruction's measurement, and stretched or eased onto the hat.
Patterns: Download the hat pattern – all sizes are together.  It's on 4 pages, landscape.  Be sure to print at 100%.  Sticky tape the sheets together matching the crosses at the corners.
Free Pattern Make a Hat All Sizes nested
UPDATE: Apologies, there is no test square but the height of the crown pattern measures exactly 11cm in the centre. 
For a classic bucket hat with a circular, rather than oval, top, there's an optional round top (all sizes, one page):
Free Pattern Make a Hat Optional round top
Instructions:
Some photos to supplement the instructions:
Enjoy this hat pattern.
Cheers!
PS – Running Mom, here's how to make the crown deeper: