Cutting zero waste sleeves from triangles
Zero waste sleeves have been on my radar lately. Sleeves were the theme of the newly-published September zine for A Year of Zero Waste Sewing, and I looked through lots of new and old sleeve ideas while writing it.
Of course I turned to the influential and significant Zero Waste Fashion Design to see what they had.
Within the pages lies a cutting layout for a top that's constructed from an oval, which is cut from a rectangular piece of fabric with the triangular corners used as sleeves.
While there's a cutting layout and an accompanying garment photo, the book doesn't exactly say how to form the sleeves. The photo is in black fabric so it's hard to see. (If you happen to own a copy of this book, it's pages 100/101, and maybe the same top is on page 81.)
The actual instructions are: "By twisting the triangle pattern piece into a tapered tube form, a sleeve is able to be constructed." That's all – no how-to illustrations. I've had the book for 7 years and pondered this from time to time, but just lately I think I've twigged how to do it. (Maybe others intuitively got it from the start – I salute you!)
Here's how I think it happens. A circle or oval gives the triangle-y shapes at the corners.
Pair these up with each other like this:
Then, join the straight edges together.
This forms a ring like this: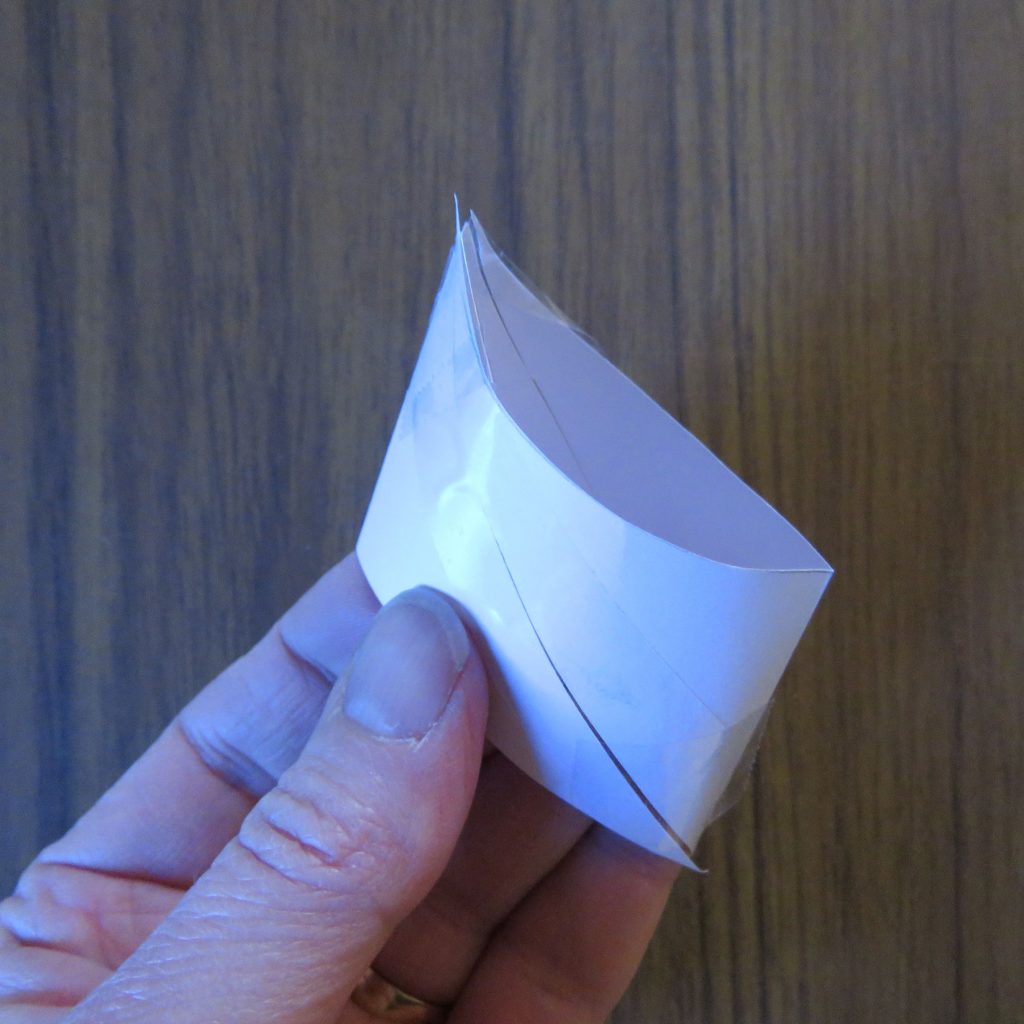 There you have the sleeve. Of course, I may have this totally wrong.
The curved diagonals form the top and bottom of the sleeve, so they're on the bias. They're not exactly straight, so the pointed part could go at the top centre of the sleeve.
So…that's as far as I've gotten, ie just thinking about it. But I will try it out though. I've fallen in a bit of a heap with Long Covid lately – I'm back to daytime sleeps with lots of little lie-downs in between. My teen said I looked "cr*p-er than usual" (harsh, but not untrue). It's school holidays here for 2 weeks so I may take a blog holiday at the same time.
See ya!