A small embroidery book has captivated me.
I borrowed Yumiko Higuchi's Zakka Embroidery from the library during the school holidays.  It's a charming little book with simple, mainly botanic, Japanese/Scandinavian style designs.  The book also has a French nostalgic feel about it, too, from the red haired young girl in the photos.
While the embroidery designs are predominately botanic, there are also animals, bows, snowflakes, paisleys, feathers, boats and so on as well.  Each has an accompanying craft project, but all would look just as lovely in a simple frame.
My six year old daughter likes embroidery, and wanted to try out one of the designs.  We already had embroidery floss and some linen around the house, and I said I would trace one of the designs for her to do (all this happened just before bedtime).  At the same time I traced one for myself, thinking I'd better brush up on my skills in case she asks me stuff.  Embroidery isn't one of my hobbies but I'm OK at it.
Well, I had forgotten how addictive embroidery is.  Just one more motif.  I'll just finish this colour.  I just want to see how this looks.  My goodness, it's midnight already!
She lost interest and never got around to doing any embroidery, but I worked my way through a flower silhouette and began on a bigger bird and tree.  Unfortunately I found I needed to wear my spectacles.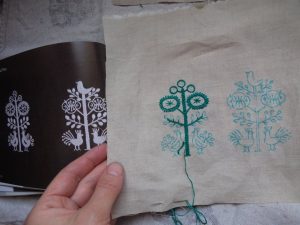 The range of stitches required is small: chain stitch (the designs mostly use this stitch), lazy daisy stitch, outline stitch (what I would call stem stitch), satin stitch and French knots.  The designs call for only one or two colours each.
Often, each pattern is made up of several small pieces, leaving one to choose whether to embroider a single flower or a whole collection.
Would Zakka Embroidery be a good beginners book?  I don't know but I found it inspiring and easy, and I enjoyed stitching.
For more, Yumiko's Instagram is a feast for the eyes.
Cheers!