The curse of the elastic waist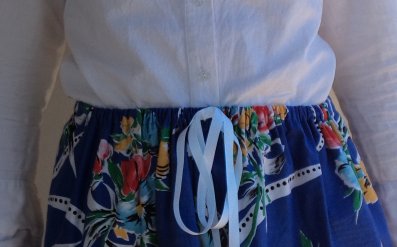 Dear Friends, have you ever made something that deep down you knew wasn't ideal but secretly you hoped would work out?  Like, for example, an elastic waisted skirt?
I made myself an elastic waisted skirt to wear last summer; I wore it only once.  It was a foolish notion for someone who doesn't really have a waist to go ahead and bulk it up with elastic gathers.
Trying to think back, I haven't worn an elastic waisted skirt for about 35 years.
I made the skirt from a length of 90cm wide op-shop fabric, and there was just enough to cut a rectangle for the back and front.  I added in-seam pockets (in another fabric), white broderie anglaise lace at the hem, and a white ribbon bow at the front.  I planned to wear it with a fresh white blouse.  The skirt is one of the prettiest I've made.  The bouquets and swirling ribbons made me think "French countryside"…..the magazine version, that is -you know, picnics in flower-filled meadows, boating on rural canals, rustic farmhouses with cobbled courtyards, that sort of thing.
The waist on this skirt has gone through four incarnations.
Originally I made it a drawstring waist with white grosgrain ribbon, which was annoying to pull up the gathers each time I put it on.
Most people would have given up by now, but I really liked the skirt so I pushed on and did what I should have done at the start: a waistband.
There were two problems…