Have you seen this before?  It's WW2 make-do and mend advice for women.  The idea is, while your man is away raiding the enemy, you raid his wardrobe and cut up his suit (so the poor man doesn't have a suit when he returns).  For best results, match a large husband with a petite wife!
I always thought it would be an interesting project to try out, and have been looking for a suitable suit.  I found one lately at our fabulous op shop.  It's a men's two piece suit by Aquascutum, for only $6, in grey wool pinstripe.  I got it drycleaned ($32) and the fabric came up much brighter as well as cleaning the dirty spots.
I can only guess how old the suit is.  This site suggests by the label it's late 1960's-early 1970's, so it could be 50 or even 60 years old.  The suit is in beautiful condition, the fabric is superb, and there's no frayed areas or moth damage even though it had food stains on it before drycleaning.
It has care labels hidden in a small pocket lower down in the jacket.
The previous owner must have been a very slim man, because the trousers fit me perfectly. I didn't try them on in the shop, so it was a pleasant surprise when I got home.  The trousers are interlined in front.
They also look great with the red vinyl ankle boots I bought at the same time!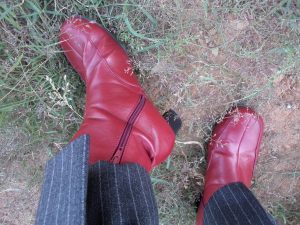 I could not bear to cut up such beautiful trousers, however I'll re-cut the jacket to fit me.  I don't plan to unpick it totally like the WW2 plan shows, because the collar is fine and I don't want to make too much work.  Hopefully the suit will end up looking feminine enough and not too androgynous – it's no fun being mistaken for a young lad, as has happened to me.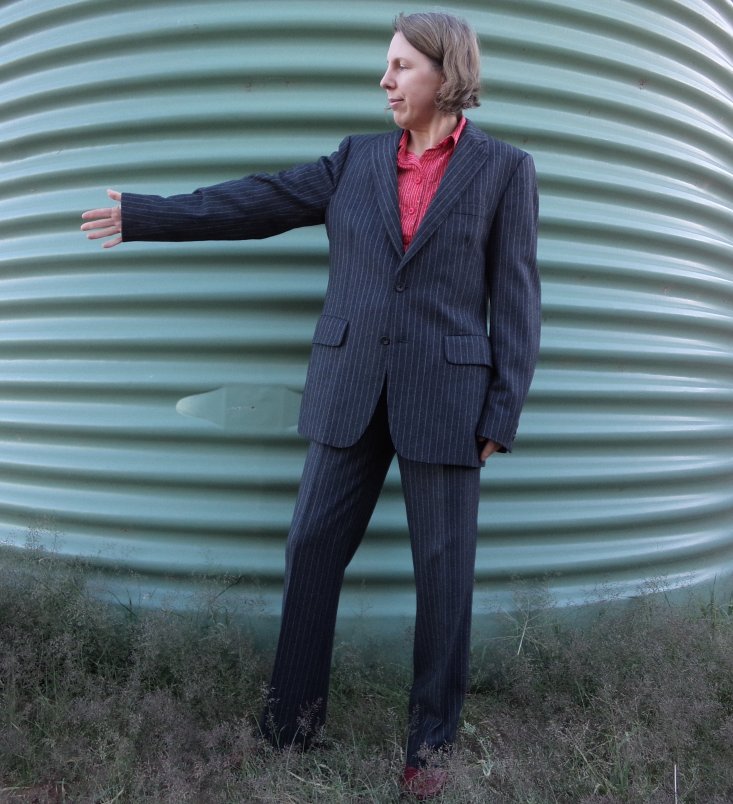 The Aquascutum suit has some handy and interesting features:
In the trousers there's a channel with elastic and buttons to adjust the waist slightly.
In the jacket there's a coin pocket inside the flap pocket.
There's a name label in an interior pocket.  The trousers have one too, but there's no name on either of them.
Under the arm there's a triangle of lining – to absorb perspiration?  I can see on the inside of the jacket that it's been let out substantially at some stage.  Did the slim man used to be slimmer?  Was it altered for someone else?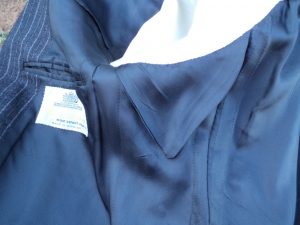 Cheers!