Have you ever wondered what you would look like if someone painted your portrait?
Earlier this year, artist Meg Mader asked if she could paint me for the Clare Portrait Prize in April. I felt extremely humbled and honored! The idea was that it would coincide with Zero Waste Sewing's book launch and we would all get a bit of publicity from it.
Unfortunately (and I know you can guess what happened…) the Portrait Prize got postponed due to covid, although the book launch just pipped in before everything closed for lockdown.
However, the Portrait Prize got re-scheduled and I attended the opening during week (watch it here). It was a small affair due to restrictions, mostly just the artists and their subjects, and it was all very friendly and jolly.
There are competition entry rules of course:
Each artist is allowed up to three artworks.
The portrait must be of somebody known to the artist and painted within the last 12 months. There's a separate section for animal portraits.
You can paint from photographs but you have to have at least one sitting.
There's an entry fee but they waived it this year due to covid.
How does an artist go about painting a portrait? This being my first portrait, I was intrigued by the process. Meg came to my house and I set up the sewing machine on the kitchen table. I dug out a selection of fabrics for her to style the scene. She asked me to change my floral shirt to a plain one, and to smile without showing any teeth. Apparently it's hard to paint teeth without them looking creepy!
She drew while I sat sort-of still, then she took photos for reference and finished it off in her studio.
Meg had never painted a sewing machine before and I thought she did a convincing job, however she said she had the most fun painting the fabric.
Meg paints in acrylic inks – they're kind of like watercolours but they're liquid in a bottle rather than a solid cake. The undiluted colour is very intense and can be turned down just by adding water as you would for watercolours.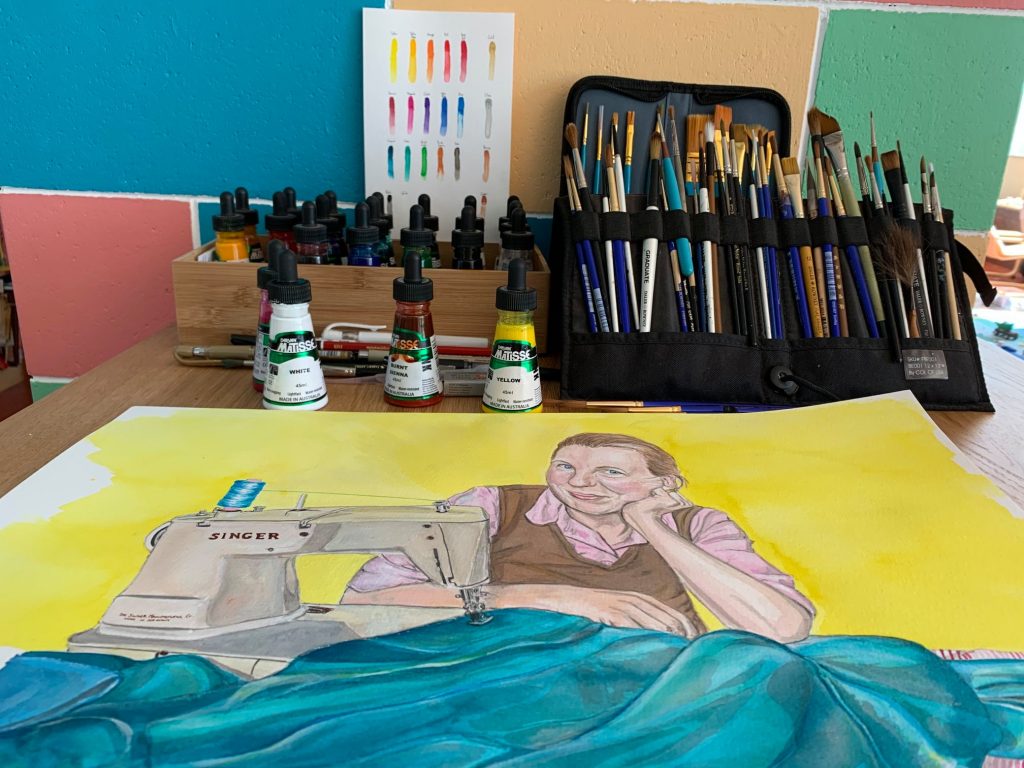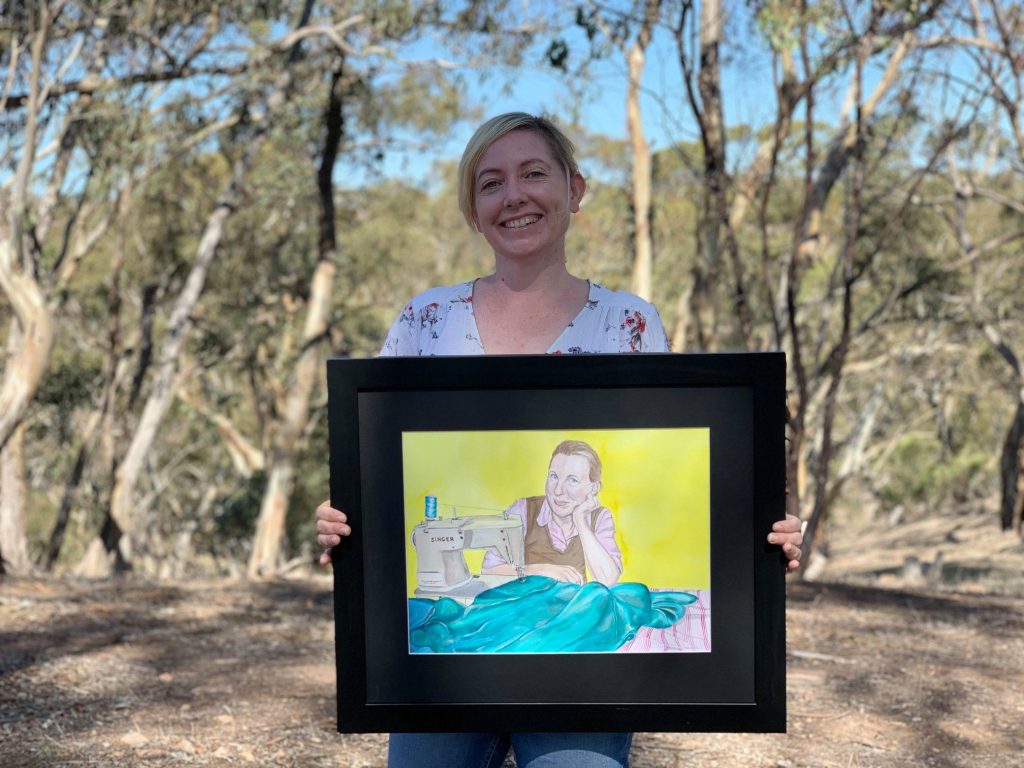 At the opening, the prize winners were announced by the judge, who was local artist, illustrator and educator Chris Meadows. Gee, I was glad I didn't have his job – it would have been so hard. He described the three judging criteria: the picture has to achieve a likeness of a person or animal (everyone ticked that box). It has to show technical ability – the skill of the artist, composition, use of the medium etc. Thirdly and perhaps most importantly, it has to capture something of the personality of the sitter.
"Our" portrait won the incentive prize 🙂 According to the judge: this piece captures much about the subject both in its pose and facial expression. There is a certain glint in the eye as the sitter is captured in a very direct and personal way.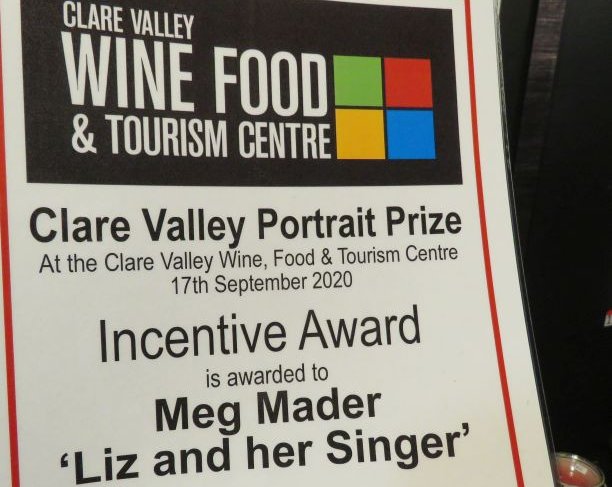 Yay! Well done Meg and many thanks to all involved in this event.
The exhibition is on display until October 17th at the Clare Valley Wine, Food and Tourism Centre, right next to the caravan park. If you're in South Australia's Clare Valley or traveling through on holidays, come and take a look and cast a vote for your favourite for the People's Choice award.
Take a look at some of Meg Mader's work on Instagram, Facebook and in her shop. She sells prints, commissions, online workshops and art materials.
Cheers!