Making rubbish wearable: a Smith Pinafore from upcycled denim
During the week I got a brilliant idea from @whendy7 for the Smith Pinafore dress. She suggested making it from old jeans – the panels of the dress could be cut from the legs. Great idea!
I even had something handy I could use. Some years ago our local opshop gave me old jeans to cut up for a visible mending workshop. The shop sorts their donations on-site and they saved me jeans which were were basically rubbish – too worn out/torn for the shop to sell and they would normally throw them out. Apparently they get a lot of this.
In one bag were several pairs of unsuitable jeans that I left in our laundry and forgot about. I had a look through the bag and found two candidates for cutting up.
I just want to say here that if you buy second hand clothes to cut up, reconsider and ask the second hand shop if they have clothes they can't sell. They throw out a huge amount of torn, stained, dirty and in-need-of repair clothes which can be used for cutting up. There's an enormous resource here! – and you're not cutting up garments which potentially someone could wear.
So I can say with certainty that these jeans were rubbish destined for landfill.
To be honest, they were pretty sad-looking and had seen better days. One is a black pair of size 24 jeggings and the other is a faded black pair of size 14 skinny jeans. They are both cotton/polyester/spandex and have lost their stretch across the bum and tummy.
Neither were washed before donating. Do you know how I could tell? The jeggings wearer left a shopping list in her back pocket (tacos for dinner, apparently) and the skinny jeans wearer left a hair accessory in her pocket. Both garments smelt like perfume.
The jeggings were big enough to cut a set of centre panels, and the skinny jeans yielded the side panels, straps and slot seam backing. I cut the pocket bags out of fabric I already had at home.
Btw, a three-quarter length Smith pinafore would not be possible using jeans legs because they aren't long enough. I cut the above-the-knee version. But you could put seams in the denim or make it patchwork if you wanted to go longer – it would look good in patchwork. Also, I cut a size 10/12.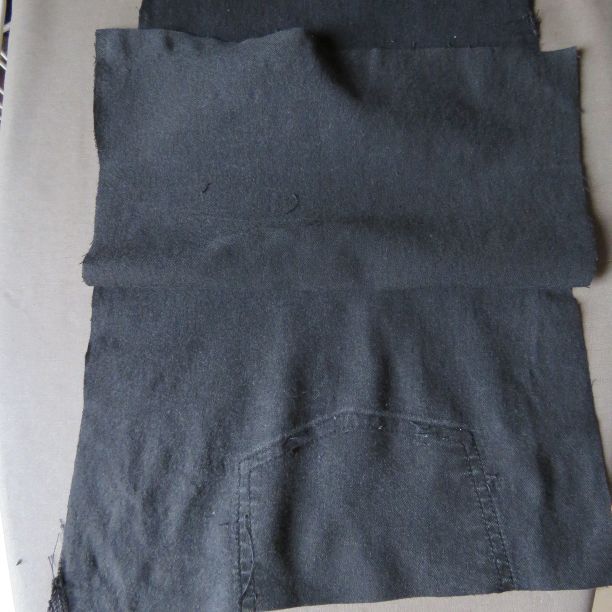 As I went along, pressing and trimming the panels, I started to think hmmm…maybe this will work….
….and it did!
With the panels cut, trimmed, pressed and extra-interfaced, it was a straightforward make. The old denim has a soft, almost velvety surface and the lighter weight is more comfortable to wear than the thicker denim.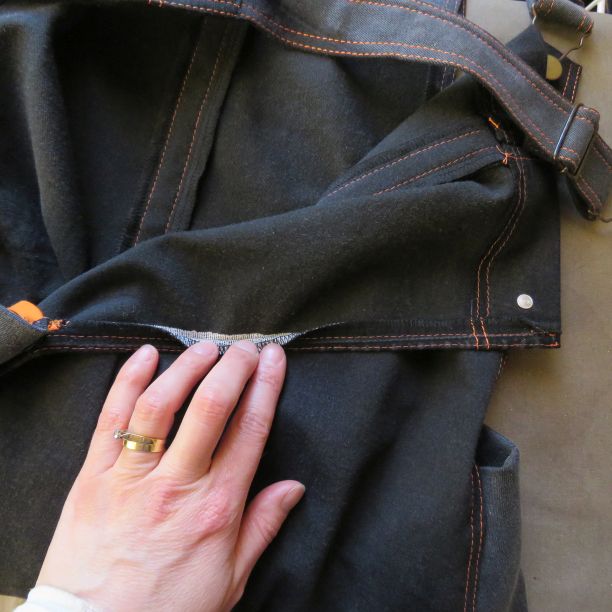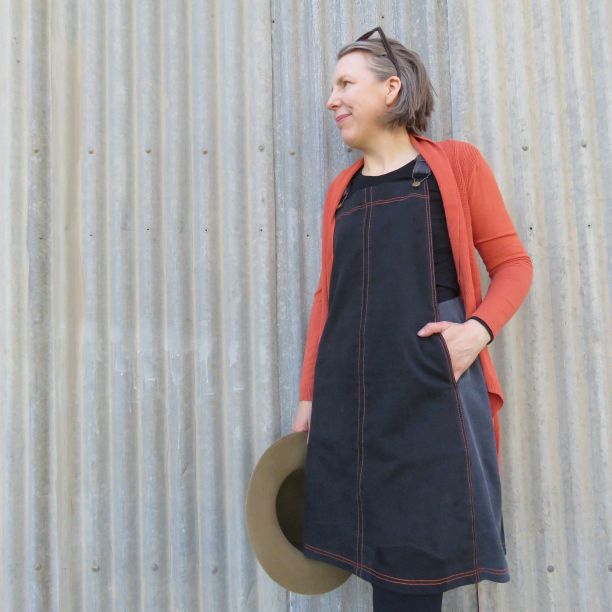 The verdict:
The Smith Pinafore is a great candidate for upcycling jeans, and I think I might even prefer it to the ones made from new denim.
Shop the pattern here. Please enjoy 25% off during October.
Cheers!
Liz