Free pattern: wraparound skirt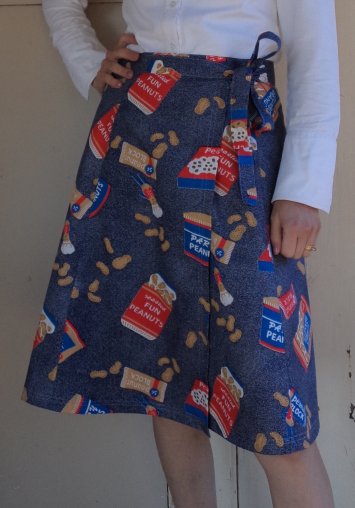 Hello All,
Here's a pattern for a 6-gore wraparound skirt. It has a generous wrap and is very suitable for one-way prints. It would also look good in a plain fabric with topstitched seams.
If you've never drafted a pattern before, this is a good one to start with because it's straight forward and easy-fitting. You'll need your waist measurement, a ruler, pencil and L-square, and of course paper.
This is a step-by-step, but there's a summary at the end so scroll down if you want the overview first.
You can probably work out the sewing order from my drawing: 1) join all the panels together 2) do the mitres and hems 3) attach the waistband and make the ties 4) make a buttonhole in the waistband.
I made my skirt using some very old novelty print fabric with peanut-themed print. The pattern pieces barely fitted across its 90cm width. I think it's cotton, about quilting weight. Anyone got any ideas how old this fabric might be? 1970's? 1960's? Even 1950's? The colours are most accurate in the pictures of me wearing it.
Cheers!
Update: This has become by far my most popular post ever. If you've made this skirt, please feel free to leave a comment and if possible a link where we can see your great work!
Another update: This skirt can be made with 3 gores. Click here to read how.
Update Aug 2021: Here's a sketch of the cutting layout – check that your panels fit into the fabric. See here for a zero waste skirt.