3 books for bedside reading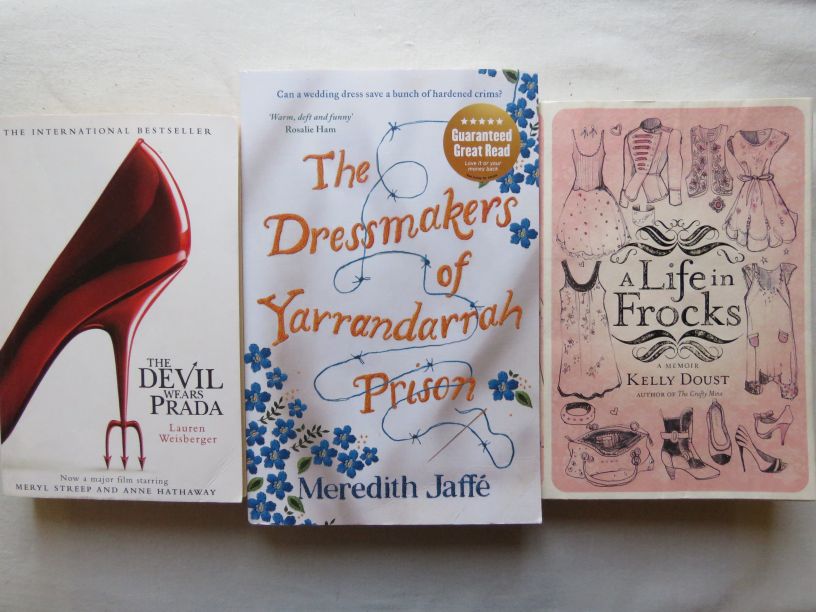 The Haywood Household has been laid low.
After the first few days in bed feeling utterly wretched, one migrates to the sofa in a dressing gown. Absolved of all household responsibilities, the time passes with reading, watching TV, nose blowing, taking little naps and eating ice cream with a teaspoon (to soothe the throat).
This is eventually followed by feeling brighter, washing one's hair and getting dressed, and returning to normal life on "light duties" – being mindful not to overdo it.
Whilst on the sofa in my dressing gown last week (I'm now in the "light duties" phase), I read some new and new-to-me books you might enjoy too….
(I know, they're all "chick-lit" books – they were just right for Recovery Reading.)
The Dressmakers of Yarrandarrah Prison
by Meredith Jaffe (2021 Harper Collins)
Have you ever read a book and wished someone would make a movie of it? This one has plenty of juicy roles and I can already imagine the perfect actors.
The book is set in Australia in a fictitious prison. The story revolves around Derek, who's incarcerated in Yarrandarrah Correctional Centre for embezzling funds from the golf club, mainly to keep up with his (now ex-) wife Lorraine's excessive spending habits.
His daughter Debbie is getting married but Derek won't be able to go to the wedding. He hasn't spoken to her in years but wants to make a gesture to show her how much he loves her, but how?
Inspiration strikes at his weekly prison sewing circle – the group decides he'll make her a wedding dress. His fellow crim stitchers and their optimistic sewing facilitator Jane help and soon the dress becomes everyone's project. But will the dress be ready on time? Will Debbie get it? What about Lorraine?
Having worked in a couple of bridal salons making dresses, this book's title drew my interest. Is it plausible that a group of men in prison could make a wedding dress using guessed measurements? Maybe.
The book is funny in places with affectionately drawn and interesting characters. At the same time it's also dark, poignant and hopeful. Jaffe's choice to set the story in a men's correctional centre gives an opportunity to look at prison life and the stories of the men there.
The pace really picked up in the last two-thirds of the book as I turned the pages wondering how things would pan out. Bring out the Kleenex at the end!
The cover is beautiful on this book – it's a photograph of the embroidery on the wedding dress in the story.
Listen to a podcast of Meredith Jaffe talking about the book and why she decided to set it in a men's prison.
This book is available as an audio book.
The Devil Wears Prada
by Lauren Weisberger (2003 Harper Collins)
This story was written almost 20 years ago, was made into a movie 15 years ago, yet (apart from covid) could have been written yesterday.
It didn't get 100% glowing reviews when it came out in 2003, yet unexpectedly, of the three books here, this was the one I couldn't put down.
You probably know the story if you've seen the movie: Andrea Sachs has ambitions to be a writer and applies for a job at a publishing company. She gets a job as the junior assistant to Miranda Priestly who's the editor of Runway fashion magazine. Andrea isn't interested in fashion but views the job as a stepping stone to the works she really wants to do, and thinks Miranda might give her a recommendation to work at another magazine. Miranda (the "devil" in the title) is demanding and difficult to work for, and Andrea works out her priorities in life.
It's speculated that the inspiration for the character of Miranda was Anna Wintour, editor of Vogue magazine where the author briefly worked. Fun fact: Anna Wintour went to the premiere of the movie wearing Prada.
I can't remember if I've seen the movie or not (I'm sure I would have), but apparently it has a different ending to the book.
Weisberger has written a sequel, Revenge Wears Prada: The Devil Returns, published in 2013. A third novel, When Life Gives You Lululemons, was published in 2018.
A Life in Frocks – a memoir
by Kelly Doust (2010 Murdoch Books)
Memoirs are always a good read and Kelly Doust's is written through the memories of her clothes. You may know Doust as the author of The Crafty Minx series of craft books.
Clothes, particularly vintage ones, are a passion for Doust. She also loves glossy magazines and a good bargain! As she narrates her life, she talks about the power of clothes to make us feel good, transform us, and reinvent our identity. She describes her quest for THE perfect pencil skirt/striped Breton top/shoe/little black dress/bodysuit (Alas! She doesn't sew her wardrobe!) and reflects on whether it's possible to find one perfect item that will fulfil your needs. There are some wonderful descriptions of fashions and people who wear them in this book.
The actual book is beautifully designed. There are intermittent colour drawings throughout and on the cover. Even though it's a paper back, it has a dust jacket which cleverly covers drawings of undies underneath. The book won an Australian Publisher's Association Award for Best-Designed Non-Fiction Book, 2010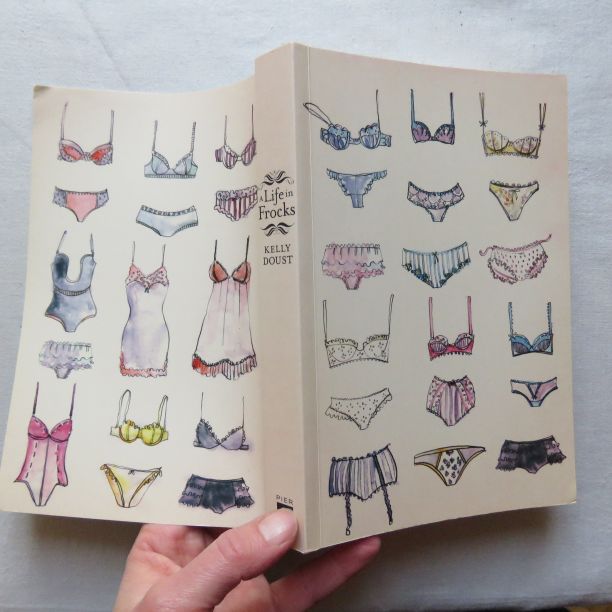 I also had a little fashion drawing to use as a bookmark, courtesy of one of my children:
Cheers!
In the interests of full disclosure, The Devil Wears Prada was borrowed from a friend's bookshelf and the other two books were bought by me with my own money. This is a completely independent review.