Winter shorts – trousers transformation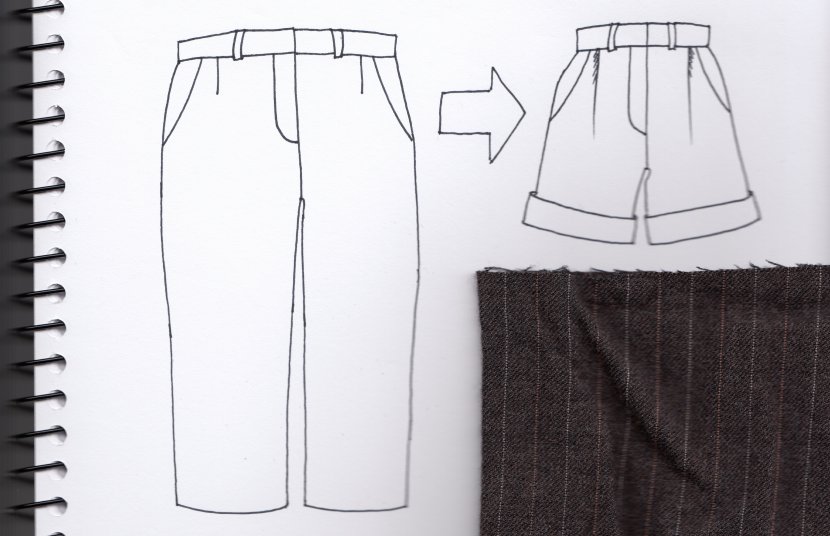 I dug up an old UFO to finish this week -some trousers I thought I'd turn into winter shorts.  Actually, it isn't so much an UnFinished Object, more like a project I planned and never started.
About four years ago I bought two pairs of men's suit trousers from the op shop, because the fabric was so superb.  One pair I re-cut into smart trousers (for me), but the other pair was too short to become trousers -even though they both seemed to  have belonged to the same Danny DeVito-shaped man who went on a holiday to Singapore and got trousers made.
I had already started unpicking the too-short pair, and unfortunately didn't take a "before" photo.  There are some details I plan to keep if I can:
Then an unsettling thought crossed my mind: Are winter shorts in fashion?  Does anyone wear them?  I know they come and go, and they're certainly not a look for everyone.  Last time I saw winter shorts being worn was by Mrs Brown in the movie Paddington.  Last time I wore them myself was eight years ago and they were maternity ones -don't want to look like I'm stuck in the year 2008.
A brief search on the computer confirmed that yes, it's ok to wear winter shorts.  The bad news is you have to look like a model on your day off, and gee, all those shorts seem to be so, well, short.  Clearly I'm going to have to adapt the look to my own fashion sensibilities, since I'm no fashion pin-up and I'm too old to wear over-the-knee boots with 6″ heels.
Here's a summary of my research:
Possible tops to wear with winter shorts: chunky sweaters, scarfs, long layered cardigans, layers of shirt-vest-jacket, longer coats (like knee length), leather jacket if you have one.
Possible accessories: cute knitted hats, long drapey scarfs, slouchy leather handbags.
Possible legs and shoes: black opaque tights, maybe patterned tights, ordinary boots, low heeled slip-on shoes (and if you're a model on you're day off, you also have the option of sheer tights, bare legs or high heeled ankle boots).
Join me next week!