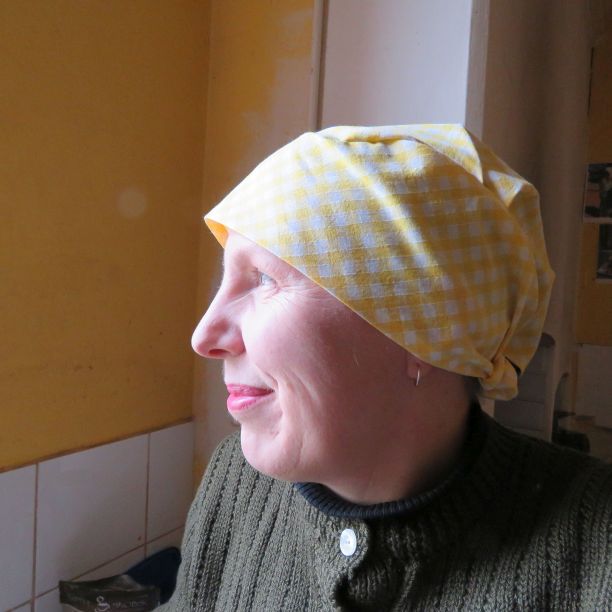 My friend Belinda, a health care worker in Victoria, has been making scrubs hats for her co-workers.
She wondered if it was possible to make a no-waste scrubs hat? Preferably one that's quick and easy!
Zero waste hats are tricky because our heads are round, curves take a bit more thinking to work out, and the fit of hats is important.
So, the design brief is: a scrubs hat that's zero or low-waste, and fast and easy to sew. (And obviously) fits well and looks good.
I'm putting this out here on the blog because I think it has potential but I would appreciate any input anyone would like to give.
First attempt
Here's what I came up with:
Belinda reported that it was nice and quick to sew, but found that there wasn't enough coverage at the back of her head. When I tried the prototype on again with my hair up, I saw she was right – it needed to be bigger.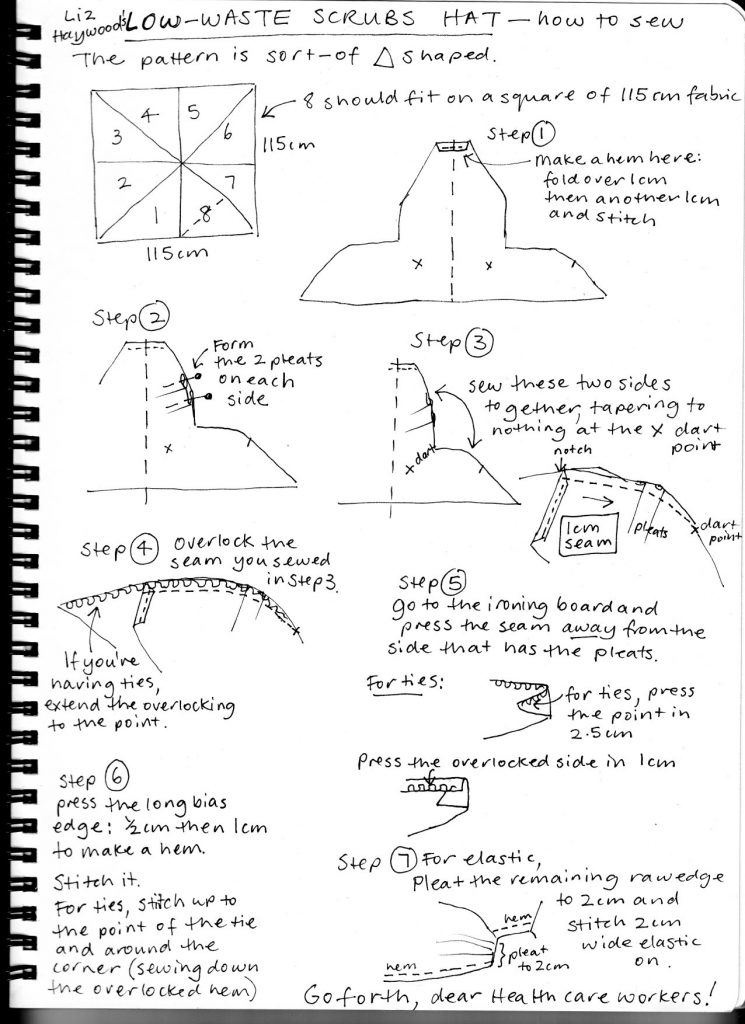 It's not zero waste; there are 2 triangle shaped offcuts, but maybe a quilter can use them?
Second attempt
It doesn't look too much different from the first one, but it's bigger. I extended all the points of the "triangle" by 3cm. Have I gone big enough?
8 hats now fit on a 124cm square of fabric (instead of the original 115cm).
Want to try it? It prints out on 4 x A4 sheets, portrait orientation. I'm having trouble embedding the pattern into this post, but it's at the end. There's a download button at the top if you wave a cursor over it. If you can't get it, just leave a comment and I'll email it to you.
This hat can be tried on without doing any sewing: press up all the hems accurately at the ironing board, make the pleats then pin the two seams together and try it on.
So, it's got possibilities, and I'm open to all thoughts and ideas 🙂
Cheers!