Last night was the official book launch of The Dressmaker's Companion; I've held off this week's blog post so I can tell you about it.
Seventy of us packed into the Barbara J Long room at Clare's town hall.  It was a cold, wet, wild night outside but indoors it was cosy with wine, cheese and hot drinks.  If you've been following the saga of the blue dress, here and here, sorry I didn't wear it (that neckline still needs work).  It was a lovely evening, lots of fun.  Many thanks to Clare library for hosting the event.
My husband sold books for me.  Just for giggles he brought along his 1950's cash register.  Sometimes we use it at home when we play Monopoly, for the banker.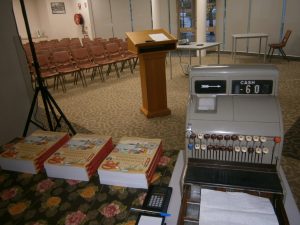 I had a power point presentation as I talked, with some photos I dug out of the shed.  Here are some of the highlights:
Cheers!