Pattern recommendation: fabric boxes
Stitched Sewing Organizers is everything a craft book should be: beautiful, thoughtfully designed projects, gorgeous photography and easy-to-understand instructions. I wanted to make everything in it, whether I needed it or not.
The book is a collection of things to make to hold sewing supplies, either for at home or traveling.
On the weekend I made one of the easier projects, a fabric box (one of the small ones). I imagined myself opening a drawer with sewing supplies set out in beautifully made fabric boxes, everything at my fingertips. Don't we all?
It was very simple to make, and if you have spare quilting cotton lying around you could whip up some great gifts.
The pattern calls for heavyweight double sided fusible interfacing such as Pellon 72F Pletex II. Pellon 72F Pletex II is hard, if not impossible, to come by on a rural property in Australia on a Saturday afternoon, but I substituted non-fusible Shapewell applied with a gluestick.
A common problem with fabric boxes is their tendency to bow out at the side but this one stayed neat and square due to the spare corner fabric being folded along the sides.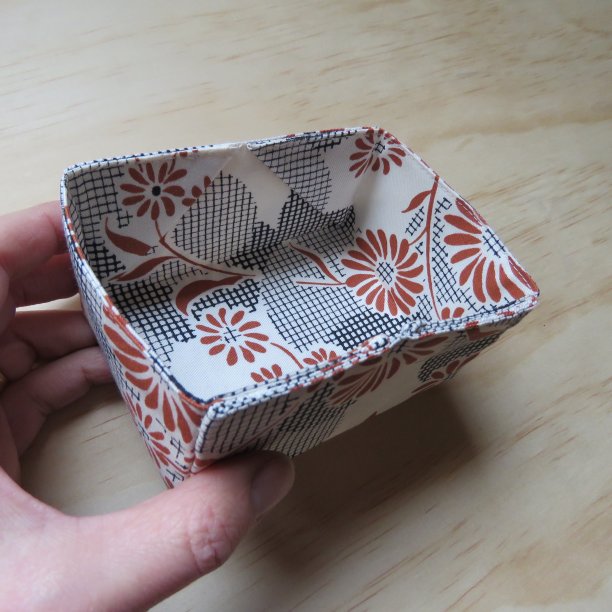 Just before sitting down to sew, I was alerted to this fabric basket and tray set on Carolyn Friedlander's blog and decided to make that too.
The pattern is by Anna Graham of Noodlehead (whose pincushion I made here). I once again made the smallest item of the set, the tray, but I would like to make the basket as well. I liked the clean lines and the curved shape made by the darts in the corners. Also liked the leather/hardware.
I used fabric from my "time capsule" collection of 1960's fabrics.
It went together very easily apart from sewing together the lining and exterior. I set the inner piece (lining) up by 3mm to make the two pieces sit smoothly inside each other. The difference didn't matter since it was covered by the binding.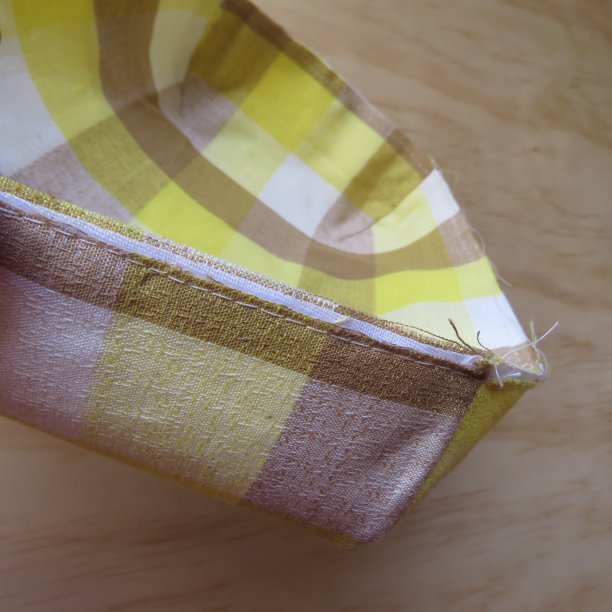 Again, due to the absence of Pellon interfacing, I used Shapewell and a gluestick to give the tray its shape.
I just realised I was supposed to handsew the binding down but I machine sewed mine.
For rivets to hold the leather handles in place, it's the same old story as the Pellon interfacing (although we did have leather) so I used a cross of upholstery thread instead.
Summary: lovely. And functional. A useful gift for someone that's also fun to make.
In other news I now have a quarterly-ish newsletter featuring interesting sewing and fashion related things. Click on "newsletter" in the header menu to receive it.
Cheers!