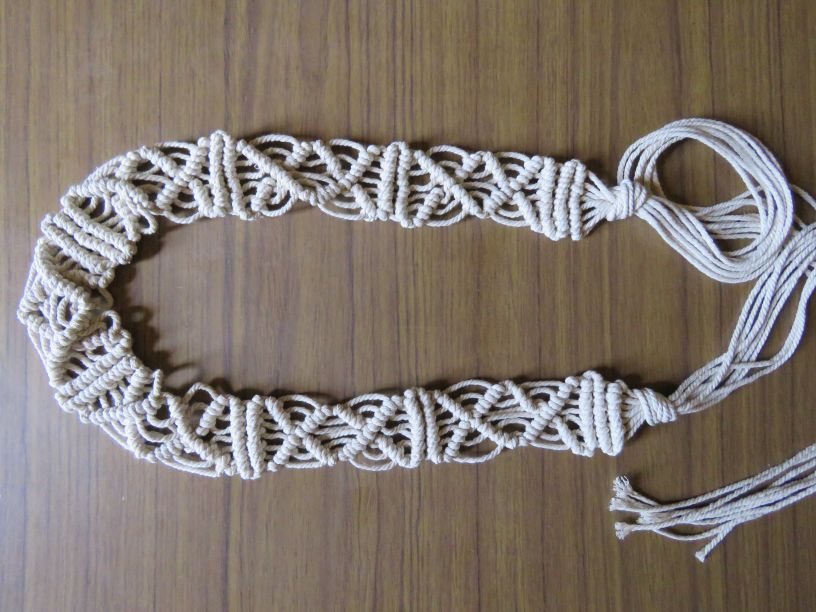 Hi Everyone! Happy New Year – I guess I can just say that before January ends!
It's still school holidays here, although the carefree days are drawing to a close.
At the beginning of the holidays, I thought it would be fun to try a few new crafts together, with one of them being macramé. Unfortunately, I couldn't whip up any enthusiasm for it.
However, even if no-one else was interested, I thought I'd do some.
It's not my first time doing macramé. I tried it when I was about 10 or 12. I made a macramé dog lead in the hope that my parents would buy us a dog, but they didn't, so I gave the lead away to some friends who did have a dog.
I'd bought some macramé cord, and Tracy of Knit-Spin-Weave kindly lent me her archive of 1970s macramé books. These books are amazing – the instructions are excellent. As anyone over the age of 50 knows, the 1970s were a renaissance time for macramé, and all sorts of other crafts too.
I borrowed some books on modern macramé from the library as well, but they were mainly home decor macramé.
I saw a belt in one of Tracy's book and though I'd give it a try. The instructions were brief but there were good how-to illustrations for making the actual knots.
But I didn't really know how to actually get started. I dithered a bit on Youtube before going back to the book and taking a better look at the photo, and thought I should just try.
Once I got started and was about 8cm in, I hit the groove. It's kind of addictive in the way tapestry is "just one more row".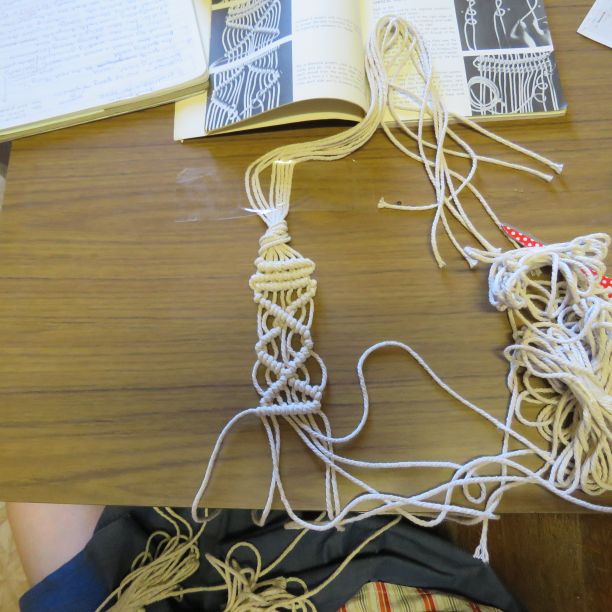 Just over half way through, I had a horrible feeling I didn't have enough rope left. I continued on anyway, not feeling very good about it.
But then I made the happy discovery that macramé stretches, so I did have enough and didn't have to make the belt as long as I first thought.
By the way, I hope you've noticed I've photographed these on our deeply unfashionable faux-wood laminate kitchen table, which is the same era as the macramé books.
The belt in the book didn't have a buckle or fastening – the ends were just tied together in a knot, as a tie belt.
I like this belt!
Some findings:
I found macramé easier to get the hang of than knitting or crochet – if you can already do these, macramé's a breeze.
It's a big time saver to wind up each cord and secure it, rather than pulling metres and metres through with each knot.
Unpicking sucks. You have to undo each knot.
It's not something you can easily pick up and put down. It's best to set it up somewhere where it can stay, and devote a slab of time to it. I had to pack mine up for dinner.
Specs: my belt is 75cm/30″ long not counting the 50cm long ties at each end. I used 8 strands of 3mm cotton cord, each 4.80m and had some length left over. It took maybe 4 hours?

In the interests of nostalgia, here's a gallery of some of the macramé projects in the 1970s books. Many of these could be re-made, re-photographed and be published today (and some not).
I didn't know that Kaffe Fassett designed macramé as well.
Have you done macramé, either lately or a long time ago?
Cheers!