There have been some moments in the past few years where I've thought Why am I carrying this large handbag?
I never thought of myself as a handbag person but I've been carrying one around for nearly a decade.  It started innocently enough: I had a baby and carried around a baby change bag.  Then I switched to a smaller change pad and a large handbag (BIG handbags happened to be in fashion).  My children grew and so did the stuff I took whenever we left the house: drink bottles, snacks, changes of clothes, amusements, favourite stuffed animals, sunhats/warmhats, tubes of sunscreen, spare jumpers…and possibly library books, plates of morning tea, swimwear and towels, raincoats and cloth shopping bags.  Mums reading this will know what I mean.  I sometimes fit one or two copies of The Dressmaker's Companion in my bag too.
I was challenged lately to ditch the (now scruffy) handbag entirely and wear clothes with pockets and carry a small wallet.  What a bold concept!  How freeing!
There was a wallet pattern I had in mind from The Gentleman's Wardrobe, a book I bought some time ago but haven't made anything from yet.  It looks like a good book for all levels of sewing; it has simple projects as well as more complicated ones.
The wallet was enjoyable to make and the instructions are very good indeed.  Andrew at mensew has also made this wallet here, and went on to make several things from the book (waistcoat, cap and shirt, shirt, shirt).
I made a few changes to the wallet.  I made a zippered compartment for coins rather than a press-studded one (if I was making another one, I would put the zip tab on the other side).  I also omitted the topstitching for a clean look.
I was very happy with the binding, especially my lovely mitred corners, but saw that Andrew bagged his out instead and ended up with a smaller wallet (= better size I think).
In fact, I wondered whether this wallet will be too big for my pockets – it was hard to tell until it was finished.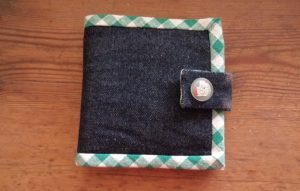 What did I used to do pre-handbag days?  I had a small zippered change purse (and wore clothes with pockets).  I had some more fabric so I whipped one up while I was at the sewing machine.
Goodbye, Mummy Handbag!