Finished my MMM18 trousers
As May slipped into June and now into July, my Me-Made-May 18 trousers pledge remained unforgotten yet unfinished….until now.
Yes, I'm pleased to show you my new red trousers.  I'm really happy with them, best thing I've made in ages. Haven't worn a waist this high in a decade or two, but they're very comfortable. The fabric is some sort of lightweight canvas from the op shop, reminiscent of Smile Jeans from the 80's.
I made them from absolute scratch.  I began by digging out my Winifred Aldrich textbook and using her (close fitting) trouser draft.
I did the draft in CAD because I need the practice.
I fitted the trousers on myself with the aid of two long mirrors, one in front and the other behind held at an angle by a chair.  While I was there I also tried on several pairs of my own RTW jeans for comparison and was mildly shocked by how badly they fitted in the seat.  I've been unknowingly walking around all this time in badly fitting jeans.
I added patch pockets to the front and back, and changed the leg cut slightly, but otherwise they're just the trouser block.
They were a joy to sew; one of those occasions where the pieces just fell together.
With any garment, making and wearing it can be so much different to trying on a calico.  As you know, sewing and wearing a garment is where any fine-tuning happens (not just in the patternmaking department…also for design, fabric choice and construction).  After finishing the red trousers, I couldn't wait to wear them.  I wore them to ride my bike into town (7km), which is when I realised I'd sewn the crotch seam unwisely.  I'd sewn a 1.5cm crotch seam and pressed both inside leg seams towards the back.  What it needed instead was the inside leg seams pressed one each way, and the 1.5cm seam allowance trimmed back to 6mm and topstitched to one side.  I almost cut myself in half with that 1.5cm seam allowance; fixed it as soon as I got home from that uncomfortable 14km.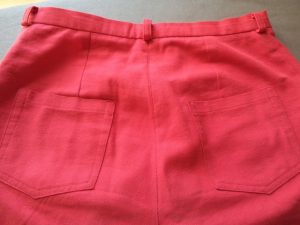 The red trousers are only Part One of my amended MMM18 pledge.  I decided at the end of Me-Made-May that I actually needed two great trouser patterns: one for classic, smart trousers (the type my Grandma would have called "slacks"), and a jeans-type trouser pattern with a closer fit (which are these red ones).  I've made the pattern for the classic trousers (and I'm happy with them) but they're only cut out at this stage.   Visit here next week and they'll be finished.
Cheers!